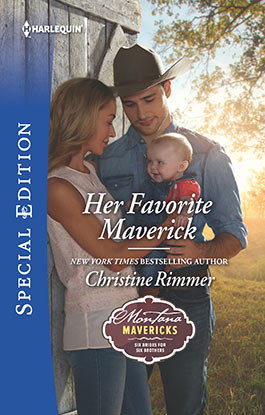 ISBN: 978-1335573940
Her Favorite Maverick
July 2019
A single mom, her baby girl…
And maverick make three!
Logan Crawford might just be the perfect man. From the top of his Stetson to his pointy-toed boots, he is 100 percent cowboy. A girl would have to be a fool to turn him down. Or a coward.
Sarah Turner thinks she might be both. But the single mom has no time for love and no inclination to be the sexy rancher's "just for now." Logan, however, is determined to steal her heart.
Montana Mavericks: Six Brides for Six Brothers
What Readers are Saying
"Sarah has been let down her whole life! Parent's, boyfriend and a weekend fling. She doesn't know how to trust anyone with her heart. Upon returning home she discovers her parents have figured out how to be happy and they support her and her infant daughter which she isn't used to. She meets an engaging cowboy and his meddling dad, add a cute kitten to the mix and you have a recipe to fix what she thought couldn't be fixed. This is a wonderful story of learning to love and trust not only yourself but other's as well. I loved this story and I know you will too!"
5 stars, Cassie, Goodreads Reviewer
"This is a quick and enjoyable, feel good read by a great author. Logan and Sarah are finally able to come to the reality of their feelings regardless of Max's interference. Logan's love for Sophia brought me to tears. I am looking forward to see what the matchmaker has in store for the others!!!"
5 stars, Linda Marie Villani, Goodreads Reviewer
"…(Her Favorite Maverick) is a book of love, fear, hope, and it goes straight to the heart."
5 stars, Tami, Goodreads Reviewer
"I would give this 10 stars if possible. Christine Rimmer knows how to write captivating stories. Once I Started, it was hard to put down. Sarah and Logan are wonderful characters. The story line is very interesting from start to finish. Max made it a little difficult, but they worked around him. Loved Sophia and the addition of Opal and Petunia. I am looking forward to the next installment of the series."
5 stars, Karen Geurts, Goodreads Reviewer
"What's a young single mother to do when a tall, handsome cowboy walks into your life, try not to fall in love that's what. Sarah has her hands full being a single mom she doesn't have time for love, Logan is a cool drink of water in a cowboy hat. He is instantly attracted to Sarah and her baby girl. Can these two get past their fears of commitment and love to make this relationship work and be a family? Sorry, no spoilers here you will have to read to find out. Another great read. One down, five brothers to go."
5 stars, Therese Lopez, Goodreads Reviewer
Chapter 1
As Sarah Turner emerged from the tiny back-room office of the former train depot, Vivienne Shuster Dalton glanced up from a worktable covered in fabric swatches, to-do lists, project folders and open sample books.
"There you are," said Viv.
"Just giving it all one more look." Sarah tried for a light tone, but going over the books yet another time hadn't changed a thing. The news was not good.
"Please tell us you've found a solution to our problem."
If only.
Viv's business partner, Caroline Ruth Clifton, stood across the worktable from her. Caroline turned her big dark eyes on Sarah and asked hopefully, "We can swing it, right?"
The answer was no.
And for Sarah, whether she was trying to claw her way up the food chain at the biggest accounting firm in Chicago or working in her dad's little office right here in Rust Creek Falls, Montana, her least favorite part of the job remained the same. She hated telling clients that they were in trouble—especially clients she liked and admired.
Viv and Caroline were a couple of dynamos. They'd even opened a second location down in Thunder Canyon, Montana. Caroline spent most of her time there.
And here in Rust Creek Falls, all the brides flocked to the old train depot to get Viv to create their perfect wedding.
Unfortunately, both the rustic train depot and Viv's primary local wedding venue—the brick freight house nearby—needed new roofs. All new. They couldn't just slap a fresh layer of shingles on. Both buildings required tear-outs and rebuilds. Plus, there were structural issues that would have to be addressed. Viv had collected bids. She knew what the work would cost.
It was a lot.
And the wedding planners had already stretched every penny to the limit.
Gently, Sarah laid it out. "I'm sorry. I've been over and over the numbers you gave me. The money just isn't there. You need a loan or an investor."
"A loan against what?" Viv was shaking her head. "The buildings and the land belong to Cole's family." Her husband, Cole Dalton, was a local rancher. Cole and his large extended family owned a lot of the land in the Rust Creek Falls Valley. "I can't take a loan against my in-laws' property. We're doing great, but, Sarah, you already know it's all on a shoestring—and frankly, I struck out on my own so that I could do this my way." Viv's big green eyes shone with sheer determination. "An investor is going to want a say in how we run things."
"Not necessarily. Some investors just want a percentage of—"
The little bell over the front door cut Sarah off in midsentence.
"Good morning, ladies," boomed a deep male voice. The imposing figure in the open doorway swept off his black Stetson to reveal a thick head of silver hair. "Maximilian Crawford, at your service." The man plunked his big hat to his heart. Tall and powerfully built, with a handsome, lived-in face and a neatly trimmed goatee and mustache, the guy almost didn't seem real. He reminded Sarah of a character from one of those old-time TV Westerns. "I'm looking for Vivienne Dalton, the wedding planner," he announced.
"I'm Viv." Viv started to step out from behind the worktable.
But Maximilian was faster. In five giant strides, he was at her side. He took Viv's hand and kissed it. "Such a pleasure to meet you. I've heard great things." He turned to Caroline, kissed her hand and then took Sarah's and brushed his mustache across the back of it, too.
Viv, who'd looked slightly stunned when the older man bowed over her hand, recovered quickly and made introductions. "Maximilian, this is Caroline, my partner, and Sarah Turner, with Falls Mountain Accounting."
"So happy to meet you, all three of you—and please call me Max. My sons and I have bought the Ambling A Ranch east of here. We're newly arrived from the Dallas area, but we have Crawford relatives here in Rust Creek Falls. We're putting down roots in your fine community."
"Welcome to town, Max." Viv cut to the point. "How can we help you?"
"I have an important job that needs doing. And, Vivienne, I know you are the one to tackle it."
"Well, if it's a wedding you're after, you've come to the right place. I take it you're the groom?"
Max threw back his silver head and let out a booming laugh. "Sorry, Viv. Not me. I've had enough of wedded bliss to last me three lifetimes. But my boys are another story. I've got six, each one better lookin' than the one before. Goodhearted, my boys, if a bit skittish on the subject of love and marriage. As we speak, all six are single." He shook a finger. "You ask me, that goes against the laws of God and man. It's about time my boys settled down."
Caroline wore a puzzled frown. "So, then, what you're saying is that all six of your sons are engaged?"
Max let out a low, rueful chuckle. "No, pretty lady. What I'm saying is that my boys need brides. And, Viv, that's where you come in. I want you and the lovely Caroline here to find each of my boys the perfect woman to marry—for a price, of course. A very nice price."
A silence followed. A long one. Sarah, who'd moved back from the worktable to let the wedding planners do their stuff, couldn't help wondering if maybe Max Crawford was a few bucking broncs short of a rodeo. And judging by their carefully neutral expressions, Viv and Caroline also had their doubts.
However, the train depot roofs weren't going to replace themselves. Viv needed a large infusion of cash, stat. And if Max was for real, cash was exactly what he offered—too bad he was ordering up services Caroline and Viv didn't provide.
"But, Max," Viv said patiently, "we plan weddings. We aren't matchmakers."
"And why not? Matchmaking is an honest, time-honored practice. A lucrative one, too—at least it will be for you, with me as your client."
Viv slowly shook her head. "I'm so sorry. But we just don't—"
"A million," Max cut in, bringing a trio of stunned gasps from Viv, Caroline and Sarah, too. Max nodded at Viv. "You heard me right. A million dollars. You find my boys wives and the money is yours."
"Max." Viv let out a weak laugh. "That's just crazy."
"That's where you're wrong. I've made my fortune thinking outside the box. And that makes me living, breathing proof that anything can be achieved if you're willing to make your own rules."
Sarah took another step back from the worktable. She couldn't have disagreed more. Rules mattered. And as much as she would like for Max to be the solution to Viv's money troubles, fast-talking men were dangerous. Sarah had learned that sad lesson the hard way.
Viv wasn't going for it, either. "Are you asking us to set up six arranged marriages? No. Definitely not. Caroline and I could never do that."
"Arranged?" Max huffed out a breath. "No way. My boys would never go for that. They'll choose their own brides. All I'm asking is that you find the perfect woman for each of them."
"Right." Viv scoffed. "Easy peasy."
"Love isn't something you can force." Caroline added her quiet voice to Viv's mocking one. "It really does have to develop naturally and—"
"Caroline, darlin'." Max patted her shoulder. "I couldn't agree with you more. We're on the same page. You won't be arranging anything. You won't need to. I've heard all about Rust Creek Falls. Love is everywhere you turn around here and the percentage of pretty women is satisfyingly high. You set my boys up and they are bound to fall."
Sarah took another step back. How could they believe a word the guy said? He talked too fast and he'd openly admitted that he made his own rules.
As if he'd sensed her retreat, the big man shifted his glance to Sarah. "So how `bout you, darlin'?"
Sarah straightened her shoulders and hitched up her chin. "What about me?"
"Are you looking for the right guy to marry?"
She was looking for anything but. "Excuse me? You want to marry me off to one of your sons?"
"Sweet, sweet Sarah, just say yes." Max actually winked at her. "You won't regret it."
"Sorry, but I'm not on the, um, market."
"Got a sweetheart already, then?"
"No. I'm simply not interested."
Max heaved a big sigh. "That's a crying shame, and I mean that sincerely. You're a beautiful woman with a sharp brain, I can tell. You'd be just perfect for—"
"Dad. What are you up to now?" At the sound of another commanding male voice, Sarah whirled toward the open door.
"Patience, Logan," Max replied. "Just give your old man a few minutes more."
"They plan weddings here, Dad. You don't have a fiancée, so you don't need a wedding. Xander and I are getting tired of waiting in the truck."
Sarah tried not to stare. But really, who could blame her? The cowboy in the doorway was hot—tall and lean, with thick brown hair and a mouth that would have just about any girl thinking of long, scorching kisses.
At the moment, though, that gorgeous mouth was scowling at Max. "What's going on here?"
As he spoke, another fine-looking cowboy entered behind him. The second guy said, "Whatever you think you're pulling, Dad—don't."
Max only laughed. "Come on over here, boys. Let me introduce you to Viv, Caroline and Sarah." His big white teeth gleamed as his smile stretched wide again. "What did I tell you, ladies? Meet my oldest son, Logan, and third-born, Xander."
The first cowboy, Logan, flicked a glance in Sarah's direction—and froze. Now he was staring right at her. "Hello, Sarah," he said low. Intimately. As though they were the only two people in the room.
And then he was on the move again, coming straight for her. He stopped a foot away, right up in her space. The breath fled her lungs. The guy was even hotter up close. It should be illegal to have eyes so blue.
With a little shiver of unwelcome delight, she took his offered hand. His big, warm fingers engulfed hers. More shivers skittered up her arm.
Absurd. Sarah Turner had no time for the shivers. Not anymore. No way was she letting a pair of bedroom eyes lead her astray again.
But Logan wasn't making it easy for her. He stared at her like she was the most beautiful creature he'd ever seen.
Why? She so didn't get it. She was not at her best and hadn't been for way too long now. A year and a half ago, she'd been hot…ish.
Now, though? She wore her hair in a ponytail to keep it out of the way and didn't bother with makeup beyond a swipe of mascara and maybe some lip gloss. On a good day, she made it all the way to dinnertime without getting spit-up on her shirt.
Max just kept talking. "Boys, Viv and Caroline here not only plan weddings, they also serve as the Rust Creek Falls dating service." Such a liar, that Max. He wouldn't know the truth if it bit him on the butt. "And Sarah is not only gorgeous, she's got a mind for figures, works as an accountant right in town. Falls Mountain Accounting, I believe. Have I got that right, Sarah?"
Logan still held her hand. She really ought to pull away. But she didn't. "I'm a CPA, yes," she said as she continued to stare into Logan's blue eyes.
"I think I need an accountant," said the killer-handsome cowboy in that deep, smooth voice of his, never once letting go of her gaze—or her hand. "And a dating service works for me. Sign me up. I'll take you, Sarah. To dinner. Tonight."
"Uh, yeah. Right." She laughed, playing it off, as her traitorous heart flipped cartwheels inside her chest.
Ridiculous. Impossible. She had no time for dates. If she had any extra time, she would spend it sleeping. And never again would she believe the lies of a handsome, smooth-talking man.
Max was still talking. "Sarah, Logan here is a self-made man. He grew up on our ranch in Texas, but he couldn't wait to get out on his own. Earned his fortune in Seattle, in real estate."
Logan chuckled. "Shut up, Dad."
Max didn't miss a beat. "Son, why don't you and Sarah go on into town? Take her to the donut shop. You can firm up your dinner plans over bear claws and coffee."
Sarah opened her mouth to give both father and son a firm no when a baby's cry from the back room did it for her.
"Huh?" Max blinked in surprise. "That sounds like a—"
"Excuse me." Sarah pulled her hand free of Logan's warm grip and managed a breezy smile. "My little girl wants her mother." Turning neatly on her heel, she headed for the back room.
Was she disappointed that a certain dreamboat of a man was bound to lose interest fast when faced with a crying baby?
A little, maybe. But not that disappointed.
Really, it was for the best.
*
Logan Crawford watched Sarah's bouncing ponytail as she trotted away from him. What was it about her? Those big golden-brown eyes, all that shining bronze hair? That smile she had that was shy and devilish simultaneously? Damned if that smile didn't dare him to kiss her.
He would take that dare at the first opportunity.
Was she married?
He hadn't seen a ring—and yeah, the baby kind of gave him pause.
But not that much of a pause. He could work around the baby. As long as she was single, well, why shouldn't the two of them have a little fun? Nothing lasted forever and he liked it that way.
It was chemistry, pure and simple. Sexual attraction. And damn, it felt good.
His dad was still talking to the other two women, while Xander just stood there looking midway between vaguely intrigued and slightly annoyed by what they were saying.
Logan, on the other hand, felt downright invigorated. He hadn't felt like this in years. Maybe never. Lately, he'd been kind of off his game when it came to women. He just had no drive to hook up and hadn't been with anyone in months.
But everything had changed the minute he set eyes on Sarah.
Just let her be single. That was all he asked.
She emerged from the back room with a backpack-style diaper bag hanging off one shoulder, a giant leather tote dangling from one hand and a pouty-faced infant in a baby carrier on the other arm. "Sorry, everyone. We'll just be going."
Uh-uh. Not yet. In four strides, Logan reached her. "Here. Let me help you." The baby stuck a fist in her mouth and stared up at him, wide-eyed.
"No, really." Sarah seemed flustered. Her cheeks had turned the sweetest shade of pink. "There's no need. I'm good."
He ignored her objections and eased the diaper bag off her shoulder. "What's her name?" He took hold of the tote. For a moment, she held on like she wouldn't let him take it.
But then she let go. "Sophia," she said. "Her name is Sophia."
"Pretty name. How old is she?" He wiggled his eyebrows at the baby, who had a pink cloth flower tied around her mostly bald head.
"Five months," said Sarah.
The baby took her slobbery hand out of her mouth long enough to announce, "Ah-da!" and stuck it right back in.
Behind him, his dad started flapping his jaws again, apologizing for trying to set them up. "I'm so sorry, Sarah. I didn't see a ring on your finger and I assumed—"
"You assumed right," Sarah responded coolly. "I'm not married."
Excellent. "But are you engaged?" Logan rattled off the pertinent questions. "Living with someone? Dating exclusively?"
"None of the above," she replied. "It's just me and Sophia." As if on cue, the little girl let out a goofy giggle around the fist in her mouth. Sarah added, delectably defiant, "Just us. And we like it that way."
So she's free. It was all Logan needed to know.
Unfortunately—and for no reason Logan could understand—Max moved in next to him. "Son, Sarah has to go. Give her back her things."
Not happening. Not yet. "Give us a minute, would you, Dad?" He turned his back on his father and moved in closer to Sarah and little Sophia. That caused Sarah to retreat a step. Logan closed the distance. The process repeated—Sarah retreating, Logan eliminating the space she'd created—until they reached the door.
A glance over his shoulder revealed that Max had started talking to the wedding planners again. His dad and the blonde wedding planner shook hands. Logan made a mental note to find out what that was about as he turned his attention back to the irresistible brown-eyed girl.
She said, "I really do have to go."
Logan held on to her tote and diaper bag and started talking, pulling out all the stops, flirting shamelessly with both the woman and her baby. He made silly faces at Sophia as he coaxed information from Sarah, learning that she'd moved back to Rust Creek Falls a month before and had a cottage in town.
"Truly, Logan." Sarah's pretty white teeth nibbled nervously at her plump lower lip, driving him just a little bit crazy. He wanted to nibble on that lip himself. "I'm not interested in dating. I'm way too busy for anything like that."
He nodded. "I understand. Let me help you out to your car."
"No, that's not necessary."
"Yeah, it is. You've got too much to carry and I've got a couple of perfectly good free hands."
Her sweet mouth twisted with indecision—and then she gave up. "Well, um, okay. Thank you."
He walked her out to her white CR-V and waited while she strapped the baby's carrier in the back seat, handing her the giant bag and backpack when she was ready for them. She set them on the floor, shut the door and went around to the driver's door. Admiring the view, Logan followed after her.
"Well," she said with an overly bright smile as he held open the door for her. "Good luck, then—with the ranch and all."
"`Preciate that," he replied. She jumped in behind the wheel, her denim skirt riding up a little, giving him a perfect glimpse of one smooth, shapely thigh. "Drive safe," he said, and shut the door.
She waved as she pulled out. He stood in the warm June sunlight, watching her drive away, thinking that he would be good for her, that she needed to get out and have some fun.
Sarah Turner deserved a little romance in her life and Logan Crawford was just the man to give her what she deserved.