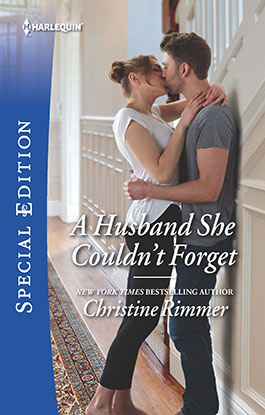 ISBN: 978-1335574138
A Husband She Couldn't Forget
October 2019
The career she couldn't remember…
The marriage she couldn't forget
Aly Santangelo's car accident left her with no memory of the past seven years—not her move to New York, nor her divorce from Connor Bravo. Connor reminds the vulnerable beauty that they're no longer together, even as he lets her into his home—and his bed. But when unchecked passion leads to an unplanned pregnancy, Aly vows to play for keeps!
The Bravos of Valentine Bay:
They're finding love
—and having babies!—
in the Pacific Northwest
What Readers are Saying
"…A Husband She Couldn't Forget is a wonderfully written story about second chances. It will draw readers in from the beginning and keep their attention throughout the book, and will have them rooting for Aly and Connor. Readers who enjoy second chance romances will enjoy this one."
4 stars, Sara, Harlequin Junkie Reviewer (Recommended Read)
"Terrific second chance romance. I read it in one sitting, unable to put it down."
5 stars, Susan Frank, Goodreads Reviewer
"This story truly tugged at my heart. It shows how true love can overcome anything. Aly Santangelo was in an accident and had no memory of the last seven years she just knew that she was married to Connor Bravo or so she thought. He has to remind her that they're now divorced. He lets her stay with him as she heals because he never stopped loving her. When you truly love someone nothing will stand in your way to be there for each other. No spoilers here, this is an amazing read and you will definitely not be disappointed. When two people are meant to be together, fate always finds a way to get them together."
5 stars, Therese Lopez, Goodreads Reviewer
"This was a fun and quick read by a wonderful author. Tells the story of a couple who marries too young, divorces and with a whack on the head realize, they had it right from the start. Sometimes you have to walk away and follow what you think are your dreams to gain the knowledge of what you really want and need."
5 stars, Linda Villani, Goodreads Reviewer
"I couldn't put this down and read it in one sitting. A Husband She Couldn't Forget is a wonderful addition to this series that I highly recommend reading. It is a standalone book, but I suggest reading the other books in the series as well."
5 stars, Judyrudy, Goodreads Reviewer
Chapter 1
The accident never should have happened. And it wouldn't have happened if Alyssa Santangelo hadn't let herself get distracted by thoughts of the past.
With a long stay in her hometown ahead of her, Aly had promised herself that this time, she would not try to keep a low profile. This time, she wouldn't be slinking around town like a heartsick fool, trying to avoid any chance she might run into the guy who'd lied and broken her heart and had her served with divorce papers after making zero effort to work things out.
And there. She'd just done it. Let her mind stray into dangerous territory. She wasn't going to do that. She would not think about him.
And she wasn't thinking about him. Not really.
She was only reassuring herself as to how this visit would go, only bolstering her resolution to stand tall and be strong. With a deep breath and a determined smile, she focused on the road ahead of her.
The drive from Portland International to Valentine Bay was a beautiful one. They called this section of US Route 26 the Sunset Highway. It wound in and out of the national forest, working its way west toward the setting sun.
It was just twilight on a warm Saturday evening in July. Aly had the windows down in her rental car and the air smelled of spruce and fir. Of Oregon.
Of home.
And her thoughts…
Her thoughts just wouldn't behave. They kept drifting, wandering, pretending to stay in the present, and then circling back again.
To her ex, to Connor Bravo.
Really, she hardly thought of the guy anymore--or if she did, she reminded herself firmly to stop thinking of him, to count her blessings instead.
And her blessings were many. She had a job she loved at Strategic Image. The ad agency had hired her as an assistant to an assistant straight out of the University of Oregon. She'd started at the bottom of the ladder, but she'd moved up fast. She'd made friends, good friends, the kind a woman can count on. Her current apartment in Tribeca was perfect, a small space, but with a huge closet for her fabulous wardrobe. She was living her dream in New York, New York.
Only one thing was missing--the right man to share her life with.
It wasn't as though she hadn't tried to find him. She put herself out there, dating guys her friends had introduced her to and guys she met via Match and Coffee Meets Bagel. Somehow, though, that special something was always missing. Her relationships never lasted that long. The most recent of those had ended a couple weeks ago. Kyle Santos was a great guy. He just wasn't the right guy. It had seemed wrong to drag things out, so she'd broken it off with him.
And seriously, what was she brooding about? She was only twenty-nine and mostly focused on her job. She would find the man for her, eventually. And she would get it right the second time around.
Coming home, though…
Well, it was tough. The memories were everywhere she turned. She and Connor used to drive this stretch of highway together several times a year, going back and forth from OU in Eugene. They would stop at rustic, logging-themed Camp 18 for burgers and to give their phones a workout snapping pictures of each other, mugging it up with the chainsaw sculpture of Big Foot at the entrance to the gift shop.
Those were the good times. The best times.
Too bad Connor had screwed everything up, lying to keep her and then refusing to even try the life he'd sworn he was eager to live with her.
She blinked and refocused and reminded herself yet again to cut it out.
Didn't work.
Seven years since he'd divorced her, and still it took only an hour on the Sunset Highway for the memories to come flooding back.
Did he ever think of her?
Oh, I don't think so….
During one brief visit home five years ago, she'd seen him down on Beach Street with a blonde. They'd looked like a Ralph Lauren ad, Connor and the blonde, both of them all tawny, tanned and fit. Aly had ducked into a leather goods store before he could spot her, but the damage was done. The sight of him with another woman had cut her to the quick.
Aly clutched the steering wheel more tightly. She swallowed hard and blinked against the hot pressure of rising tears.
Seriously. What was the matter with her?
Seven years since her marriage ended. She hadn't spoken to the man once in all that time and she never would. She really was over him, definitely.
"You're doing it. Again," she whispered at the windshield, her voice disgustingly breathy, weighted with despair. She flexed her fingers to relax them. It was years ago. It didn't matter. She wasn't coming home for him.
"Woman up," she muttered to the empty car.
If she saw him, she saw him. Get over it. He has.
Up ahead, headlights gleamed. It was weird, in the fading light. The oncoming vehicle almost looked as though it had swerved into her lane.
Scant seconds later she realized the horrible truth. The headlights were in her lane.
With a sharp cry, she jerked the wheel hard to the right to avoid impact—too hard, she realized too late. The thick trunk of a Douglas fir reared up beyond the windshield.
A split second later, the world went black.
*
Voices.
They seemed to come from all around her. Voices and sirens and strange sounds—air escaping, metal creaking. Her chest felt like someone had whacked it with a hammer. And the skin of her face, which was buried in something that smelled like singed baby powder, burned as though she'd face-planted on asphalt.
She heard a groaning sound. It came from her own mouth.
A man's voice near her left ear said, "She's coming around."
Another groan escaped her. Gritting her teeth, she willed her body into action and somehow managed to flop back away from the smelly thing that covered her face—an air bag! The smelly thing was an air bag.
With yet another groan, she put it together. Somehow, she'd been in an accident, and it looked pretty bad…
Carefully, she turned her head to meet the worried eyes of the state trooper staring at her through the wide-open driver's-door window. Red light from a light bar reflected on his face in strobe-like flashes.
"It's okay," the trooper promised, in that tone people use when it really isn't, but what else can you say? "We're going to get you out of there. Can you talk to me?"
"I…yes. Of course."
"How are you feeling?"
"Uh." She tried to decide. "I think I'm all in one piece, at least."
"Good girl. What else?"
"There's…some pain. My chest aches. And my face…" It really did feel as though someone had taken a cheese grater to her cheeks and forehead.
"That's from the air bag," the trooper said.
Aly shut her eyes and dropped her head to the seat rest again. "Everything hurts, but I don't think anything is broken…" Or maybe she was just in shock and didn't even realize she was almost dead.
"Hold tight," the trooper said. "I promise we're going to get you out of there as quickly as we can…"
It took a while. They brought out the Jaws of Life and sawed her free of the ruined car, which had folded itself around her like a big metal pretzel.
The EMTs moved in. They talked about how lucky she was—her face a little scratched up, a big bruise forming like a beauty pageant banner diagonally across her chest from the seat belt. On her left knee, she had a cut that would need stitches.
And she'd sustained what they called a mild traumatic brain injury—seriously, who even knew you could use the words mild and traumatic brain injury in the same sentence? One of the EMTs said they estimated she'd been unconscious for less than ten minutes. Patiently, they guided Aly through the basic vision and consciousness tests.
She passed, the paramedic reassured her. She was going to be fine. The woman patted her shoulder gently. And Aly felt such gratitude, like a warm wave washing through her aching chest.
So what if everything hurt? She was lucky to be alive and relatively unharmed.
The EMTs gave permission for her to talk briefly to another state trooper, a woman this time. Aly tried to remember. She recalled passing Camp 18, but after that, it was all a blur.
"I don't know, really, how it happened, or why I hit that tree. I think there were headlights, maybe, coming at me, in my lane…"
The trooper nodded. "We have a witness, a woman in a vehicle who wasn't far behind you. She saw the other car in your lane and barely swerved in time to avoid a collision herself. She's the one who called 9-1-1. Unfortunately, her description of the oncoming car is too vague for identification. She said she thought it was a dark sedan."
"So, whoever it was will get off scot-free?"
The trooper gave a shrug of regret. "It happens—too often, sad to say."
Aly put her hand to her head. "I'm sorry. My head really hurts."
The officer was sympathetic. "I'll let you go, then." She gave Aly a card. "Call this number if anything more comes back to you."
"What about my things? They're still in what's left of the car."
The trooper gave her another card with a number to call to get her stuff once what was left of the car had been "processed" and "cleared."
And that was it. The EMTs loaded her into an ambulance and off they went to Valentine Bay Memorial.
*
At the hospital, she kept telling everyone that she felt fine, just a little banged up with a headache. She asked to call her parents. The request brought soothing noises and promises that she could make the call "soon." They took her vitals and examined her more thoroughly for any new and potentially worrisome symptoms from her head injury. The air bag burns were declared minor and treated with a gentle cleaning and antibiotic ointment.
In the end, the doctor in charge prescribed a night at the hospital for observation. Barring complications, he promised, she would be released the next morning.
They moved her to a regular room and she used the phone by the bed to call her mom, who answered on the second ring with, "If you're a telemarketer, hang up now."
Her cheeks still hurt, but Aly smiled anyway. "Hey, Mom. It's me."
Catriona Santangelo said nothing for a slow count of three, after which she stated carefully, "You're not calling from your phone and we expected you two hours ago."
"Yeah, well…" Alyssa let her head drop back to the pillow with a sigh. "Can you believe I don't even know where to start with this?"
"What's happened?"
"I'm fine, I promise you. Are you in bed?" Aly's mom was forty-eight—and seven months' pregnant with her fifth son. In recent weeks, her blood pressure had climbed. She'd had cramping and some bleeding and the family doctor had put her on modified bed rest—which was why Aly, who never came home for more than a few days at a stretch, had taken an extended leave from her job in Manhattan. At a time like this, Cat needed her only daughter at her side and Aly needed to be with her mom.
Cat scoffed, "Of course I'm in bed. I hardly dare to get up to go to the bathroom. The men in this family will be the death of me, I swear. Overprotective is too tame a word for your father and your brothers, let me tell you."
"And yet here you are, having another one."
"God never gives us more than we can handle—plus, well, you know your father." Ernesto Santangelo was a plumber by trade. He was strong and fit at fifty and he loved Aly's mom with a fiery passion, to say the least. Cat's voice grew husky. "Impulsive and so romantic. What can I say? I could never resist him."
"La, la, la—I don't want to hear about your, er, private life, Mom."
Cat started laughing and then Aly was laughing, too—until she gasped at the pain around her ribs. "Ouch!"
"All right, Alyssa," her mother said sternly. "What is going on?"
"It's nothing that serious. I was in a little accident, that's all. My rental car was totaled, but I'm going to be fine."
More dead air on the line. Alyssa's mom never got hysterical. Cat was the strong, silent, effective type in any emergency. "Tell me," she finally commanded. "Tell me everything. Now."
Aly explained what she could remember about the accident, finishing with, "I don't really remember why, exactly, I veered off the road and hit a tree, but when I came to, the car was a goner."
"Thank God you're all right—but a mild TBI? That's still a concussion, right?"
"Yes. And do not get out of bed, Mom. Do not come to the hospital."
"But are you sure that you're—?"
"A little battered and very relieved to be all in one piece. That's where I am on this. They're keeping me overnight, but only for observation. It's nothing serious and I'll be home with you in the morning."
After another unhappy silence, Cat promised to stay put. "Your father and your brothers will be there soon," she said. "Give me the number there in your room."
Aly rattled it off.
"I love you, Alyssa Siobhan."
"I love you, Mom." She said goodbye.
Twenty minutes later, her dad appeared. He kissed her carefully on her forehead and called her Bella, the way he always did. She reassured him that she was doing fine.
Within the next half hour, her four brothers filed in. They surrounded her, a wall of Italian-Irish-American testosterone, their thick, dark eyebrows scrunched up with worry for her. She reassured them that it looked worse than it was and the doctors were only keeping her till tomorrow to be on the safe side.
Her dad announced that he and the boys would be staying at the hospital with her. The nurses brought extra chairs and the men settled in to keep her company. They took turns visiting the cafeteria and the beverage machines in the waiting area for refreshments. Her head was aching a little and she started to feel really tired.
"Go to sleep," urged her dad, his warm, rough hand gently squeezing her arm. "We'll be here when you wake up."
"Dad, really. You guys don't need to stay."
He patted her hand. "Just rest. Close your eyes and let it all go…"
She followed his whispered instructions. But before she could drift off, a nurse came in and shooed the men out to take her blood pressure and her temperature, to test her pupil reaction and ask her about her level of pain, which was minimal.
When the nurse left, her dad and her brother Marco returned to sit with her. They talked a little. Marco reported that he'd enjoyed his first year at OU. Her dad reassured her that her mom was safe at home, tucked into bed per doctor's orders, with her brother Pascal's wife, Sandy, looking after her.
Aly's eyes drifted closed again and her father's deep voice faded to a low drone in the background…
*
She woke late in the night, with no idea where she was. Startled, she popped up straight in the strange bed and sent a bewildered glance around the dark room.
She saw her oldest brother, Dante, slumped down asleep in the bedside chair. Something must have happened to her….
She glanced across the room and saw the institutional clock on the wall. There was a bed tray and rollers next to her bed--a hospital bed.
An accident. I've been in an accident--haven't I?
Her knee throbbed dully, her cheeks and forehead burned and she had a mild headache. Every time she took a breath, her chest hurt--from the seatbelt, most likely.
She must have made a noise, because as she sagged back to the pillow again, Dante flinched and opened his eyes. "Hey, little sis." He'd always called her that, even though she was second oldest, after him. "How you feelin'?"
"Everything aches," she grumbled. "But I'll live." Longing flooded her, for the comfort of her husband's strong arms. She needed him near. He would soothe all her pains and ease her weird, formless fears. "Where's Connor gotten off to?"
Dante's mouth fell half-open, as though in bafflement at her question. "Connor?"
He looked so befuddled, she couldn't help chuckling a little, even though laughing made her chest and ribs hurt. "Yeah. Connor. You know, that guy I married nine years ago—my husband, your brother-in-law?"
Dante sat up. He also continued to gape at her like she was a few screwdrivers short of a full tool kit. "Uh, what's going on? You think you're funny?"
"Funny? Because I want my husband?" She bounced back up to a sitting position. "What, exactly, is happening here? I mean it, Dante. Be straight with me. Where's Connor?"
Now Dante sat very still, as though he feared the slightest movement might set her off, make her do something dangerous.
And she felt dangerous. A scream of fear and longing crawled up her throat. She swallowed it down and demanded, "I want Connor. Go get him and tell him I need him. Now." Her headache was worse, pounding so hard, a merciless hammer inside her head.
Dante patted the air between them, trying to soothe her, to settle her down. "Aly, you have to—"
"Connor!" She practically shouted. "Get me my husband, Dante. Bring him in here to me. Now."
"Okay." Dante leaped to his feet. "Take a deep breath and try to relax. I'll be right back…" He raced out the door.
She pressed a hand to the sore spot on her head as it throbbed all the harder. "Connor," she whispered, shutting her eyes, willing him to come to her. Connor, I need you. I need you so much…
A nurse bustled in, Dante close on her heels. "What can I get for you, Alyssa?"
"My husband," she demanded. "I want you to get my husband in here now."