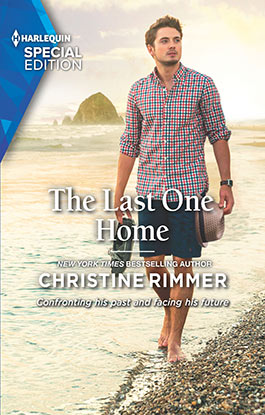 ISBN: 978-1335404831
The Last One Home
May 2021
Ian McNeill is confronting his past and facing his future in New York Times bestselling author Christine Rimmer's latest!
"My name was Finnegan Bravo."
Ian McNeill has returned to Valentine Bay to meet the biological family he can't remember. Along for the ride is his longtime best friend, single mom Ella Haralson. Out of town in a new setting, Ian begins to see Ella in a more romantic light. But being separated from his family at a young age has left Ian wary of commitment. Will this unexpected reunion turn Ian into a family man in more ways than one?
The Bravos of Valentine Bay:
They're finding love
—and having babies!—
in the Pacific Northwest
What Readers are Saying
"I waited with bated breath for this book to come out, and it didn't disappoint. Whatever happened to Finnegan (Finn) Bravo is finally explained in the series 'The Bravos of Valentine Bay' with this story. Ian McNeill finds out about his past, and we learn about his life after he wandered away from his family. His long-time best friend Ella Haralson is there to support him, and he sees her in a different light when they travel to visit his birth family…. I absolutely loved it."
5 stars, Janie, Goodreads Reviewer
"…I really loved how the relationship grew between Ian and Ella. Ian doesn't do serious relationships, but what he feels for Ella is very different. As their love grows he realizes he can't let her go. He comes to understand that family is everything. Another great read by Ms. Rimmer…"
5 stars, Therese Sacchi, Goodreads Reviewer
"This is a romance. I have to say I found the storyline really great, and this is so much more than a romance. This is a short, fun, and quick read. I really loved the characters in this book…"
4 stars, Tina, Goodreads Reviewer
"The Last One Home is a heartwarming and fun read. I liked the main characters, they were meant to be together…."
4 stars, Nicola Short, Goodreads Reviewer
"I loved Ian and Ella's story. Best friends for 9 plus years, and they work together. Ian is like a second father to Abby, Ella's 11 year old daughter. When Ian gets his memory back, he shares it with Ella. He asks her to go with him to see the family he was separated from. They indulge in each other, but supposedly for the weekend. It was good to see the characters, his family, from a previous books. Great story and love the characters."
5 stars, Karen Geurts, Goodreads Reviewer
"I really loved this book. I stayed up way too late reading it but it was totally worth it."
5 stars, Norma, Goodreads Reviewer
Chapter 1
"We never see the bears, Ian. I think we should." Abby Haralson gazed up at Ian McNeill with a bright smile on her wide-eyed, lightly freckled face. The kid had been wrapping him around her pinkie finger for nine years now—ever since the age of two, when her mother, Ella, brought her to work for the first time. That day, Abby had climbed into his lap without being invited and then refused to get down.
He'd been nineteen then, working summers and part-time during the school year while he earned his degree, determined to master every job at Patch&Pebble, the toy company he would someday inherit from the woman who had saved him and claimed him as her son.
On that first day he met toddler Abby, she'd turned those big brown eyes on him, same as now. She'd smiled so sweetly—and peed on his brand-new suit.
As for the bears, no. Just no. "Not today, Abby."
"Well, Ian, then when?" She fluttered her eyelashes, her smile turning wistful. No doubt about it, Abby was destined to break a whole bunch of hearts.
"I don't know. One of these days." He and Abby had their things they did together—Yankees and Knicks games, in the good seats, down close to the action. He took her to her favorite Disney movies now and then, to see Frozen and The Lion King on Broadway, and he attended her dance recitals. A couple of times a year, on days like today when the weather was right, when he could get away and she didn't have school, they spent an afternoon in Central Park, including a visit to the zoo. Never once in all those years had they gone to see the bears.
And Ian had no intention of going to see them now.
"Ian." Abby pinched up her mouth at him. "It's like Nike. You need to just do it. You'll be surprised. It's going to be fine. Betty and Veronica are really friendly grizzly bears. We read about them in class. They are so friendly that, for their own safety, Betty had to be removed from Montana and Veronica had to be taken out of Yellowstone—so Ian, come on. Don't you want to see the friendly bears?"
No, Ian did not.
But there was just something about Abby. She could make him do what she wanted him to do using only her big eyes and that angelic smile. Now, she kept both trained on him expectantly as she waited for him to say yes. He almost said it.
But bears?
Not going to happen.
Ian frankly acknowledged his fear of bears—even ones safely locked in fancy outdoor cages. Maybe someday he'd deal with that fear. Not today, though.
"What about the seals?" he suggested. "You love the seals."
Abby planted her legs apart and braced her fists on her hips, adorably adamant. "Betty and Veronica can't hurt you, Ian. They're in a special bear habitat and they can't get near the people."
"I'm aware of that."
"Ian." She pulled out all the stops, folding her arms, sticking out her chin and puffing up her chest. "You really need to face your fears."
Bemused by her absolute unwillingness to let it go, he stared down at her as she gave him a bullet-point rundown of a story she'd read during library time about a Midwestern farmer's daughter who faced her deepest fear and jumped out of a hayloft.
"How'd that work out for her?"
Abby wrinkled her freckled nose at him. "Okay, she broke her leg. But it was character building, and that's what matters."
Ian bit the inside of his lip to keep from grinning. Abby could be so stern and earnest. "I'm not that afraid of bears," he lied. "Have you forgotten? Patch is a bear." Patch was one of the two all-time top-selling toys manufactured by his company.
Abby scoffed. "Patch is a stuffie."
"And stuffed bears are my favorite kind."
"But why don't you like real bears?" As she asked the question, her glance shifted to the faded white scar that ran upward diagonally from his left temple, barely skirting his eye, to the center of his forehead. Once she'd compared it to Harry Potter's lightning-bolt scar, though Ian's scar was ragged, uneven and not the least photogenic.
"Abby, you already know why I avoid real bears." She'd known how he got that scar since the age of eight, when she'd coaxed him into telling her how it happened—or at least, as much as he remembered of how it happened.
"Oh, Ian…" A mournful sigh escaped her. "Betty and Veronica are grizzlies. The bear that attacked you couldn't have been a grizzly. They don't have grizzlies in Russia."
"Betty and Veronica are bears. That's all I need to know—and how about the flamingos?" he offered hopefully. "Let's head over there."
Abby slowly shook her head. "There is nothing to worry about. I promise you. I'll be right there with you, Ian." And she slipped her hand in his.
That did it. He couldn't deny her. Besides, her reasoning rang true; they were just bears in the zoo. Bears in a special habitat, walled off from the humans. Nice bears. Friendly ones—according to Abby, anyway. How bad could it be?
Five minutes later, Ian stood next to Abby at the shatterproof viewing screen above the grizzly habitat and stared down at the two giant bears below.
Surprisingly, nothing happened. He didn't find himself paralyzed with terror. No flashing visions assailed him. He had zero urge to run away screaming.
"See?" Abby nudged him with her elbow. He could hear the grin in her voice. "You're just fine."
"It appears so." At least, for the moment.
The horror might still kick in.
But he watched the bears a little longer, and still it didn't.
He heard himself chuckle. They were enormous, those two bears. And playful. They snuffled and shuffled and slid around in the water, climbing out onto the rocks, rolling in again.
As for Ian, he felt relaxed and amused, not the least panicked. He had to hand it to the kid. Turning to meet her eyes, he said, "You're right, Abby. I should have let you drag me here years ago."
"Yes, you should." Her smile had turned smug. Abby loved being right.
He shifted his attention back through the viewing screen, smiling at his own fears just as Betty threw back her enormous furry head and let out a roar that showed way too many long, sharp teeth.
It happened right then.
Like a stop-motion movie, the images began. They flashed and vanished in front of his eyes. Strobing and pulsing, they filled his head, each more terrifying than the one before it.
They flipped by faster and faster.
He was thrown back in time, only a boy and scared out of his mind.
Shadows on snow, blood on the white. Angry growls, long, piercing claws reaching for him, sharp teeth coming at him…
His vision zeroed to a tiny circle in the center of an endless night—no stars, no moon—nothing to light the unremitting dark.
As he sank to the ground, from somewhere far away, he could hear Abby screaming. He needed to comfort her, to promise her that it was all in his mind, that everything would be all right.
But he couldn't move. He stared up at a pinprick of blue sky surrounded by darkness.
And everything went black.