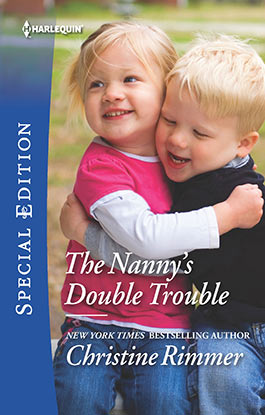 ISBN: 978-1335465726
The Nanny's Double Trouble
May 2018
And the single father of twin toddlers in desperate need of a nanny!
All his life Daniel Bravo has been the responsible one. So when he's left widowed with adorable twins to raise, he knows he needs help, fast. Enter family friend Keely Ostergard—a woman with love in her heart for his children, and a gigantic chip on her shoulder for him. She's the last person he'd ever fall for—the aversion is mutual. Until it isn't…
What Readers are Saying
"Rife with family interaction and drama, the story of this couple has you rooting for them to the end… Don't miss this Bravo family installment."
5 stars, Amary Chapman, Goodreads Reviewer
"Tho (Keely and Daniel) have known each other a long time, their attraction to each other surprises them both. That growing relationship, plus two very cute kiddies, a basset hound and a variety of supporting characters makes this a very enjoyable read. If you enjoy Robin Carr's Virgin River/Thunder Point series or Susan Mallery's small town series you'll probably like this one."
5 stars, Diane Sallans, Goodreads Reviewer
"This is another great story by Christine Rimmer. This story is about life and how it can be unpredictable and bring unexpected surprises along the way."
5 stars, Cassie, Goodreads Reviewer
"Daniel can't imagine falling for Keely, until he does. Keely can't imagine falling for Daniel, until she does. Family being family, there are some issues. Can there be a happily ever after for this couple, even when family issues crop up? Christine Rimmer just keeps the Bravos being fruitful and multiplying. I love them."
4 stars, Perrin Larton, Goodreads Reviewer
"I would strongly recommend this book. It was awesome with some twists this reader didn't expect. Christine Rimmer has done it again and I look forward to the next in the series."
5 stars, Kimberly, Goodreads Reviewer
"This was an amazing read, that I will definitely read again. I can't wait to see which Bravo sibling is next to find love."
5 stars, Therese Lopez, Goodreads Reviewer
Chapter 1
When Keely Ostergard entered the upstairs playroom, she found Daniel Bravo lying on the floor. His eighteen-month-old daughter, Frannie, sat beside him rhythmically tapping his broad chest with a giant plastic spoon.
"Boom, Da-Da," Frannie said. "Boom, boom, boom."
Meanwhile, Jake, Frannie's twin, stood at Daniel's head on plump toddler legs, little hands over his eyes in a beginner's attempt at peekaboo.
Watching them, Keely couldn't help thinking that for a man who'd never wanted children of his own, Daniel sure was a dream with them. The guy rarely smiled, yet he lavished his kids with attention and affection.
"Boo!" cried Jake, followed by a delighted toddler belly laugh that had him toppling head-over-heels toward his father's face. Daniel caught him easily and started to tickle him, bringing more happy chortling from Jake.
Frannie spotted Keely first. "Keewee!" She dropped her spoon, lurched to her feet and toddled across the floor with her little arms wide.
Keely scooped her up. She smelled so sweet, like vanilla and apples. "How's my girl?"
Frannie's reply was almost in English. "I goo."
Daniel sat up, Jake still in his arms. "Keely." He looked a little worried at the sight of her. She came by often to see the kids, but she'd always called first. Not this time. He asked, "Everything okay?"
"Absolutely." She kissed Frannie's plump cheek. "Sorry, I know I should have called." But if she'd called and said she would like to speak with him, he would have asked what was going on, and she didn't want to get into that until they were face-to-face. He could too easily blow her off over the phone.
Grace, Daniel's youngest sister, who had answered the door at Keely's knock, entered the playroom right then. "Keely needs to talk to you, Daniel."
"Sure—down you go, big fella." He set the giggling Jake on his feet.
"Come on you two." Grace took Frannie from Keely and held out her hand for Jake. "Bath time." She set off, carrying Frannie and pulling Jake along, on her way to the big bathroom down the hall.
Daniel stood still in the middle of the floor, watching her. "How `bout a drink?"
"Sounds good."
Downstairs in the kitchen, he poured them each two fingers of very old scotch, neat. Keely wasn't much of a drinker, and scotch wasn't her favorite. But she had an offer to make, and she wanted him to say yes to it. Sharing a drink first might loosen him up a little.
She raised her glass and took a small sip. It burned going down, and she tried not to shudder. "Strong stuff."
He looked at her sideways and grumbled, "Why didn't you just say you hate scotch?"
"No. Really. It's very good."
He stared at her doubtfully for a couple of awkward seconds and then, with a shrug, he looked out the window. It was after seven on a cool Friday night in March, and already dark out. Beyond the glass, garden lights glowed golden through the thickening fog. Behind her somewhere far out in the bay, down the tree-covered hill from the front of the house, a foghorn sounded.
Keely rested her hand on the cool, smooth soapstone counter. It was a beautiful kitchen. Her cousin Lillie had redone it with meticulous, loving care. It had lustrous heated wood floors in a herringbone pattern, a giant farm-style sink, twinkly glass backsplashes and chef-grade appliances.
Lillie.
Keely's throat got tight just thinking of her. She'd died eighteen months ago, leaving behind two adorable newborn babies—and one very grim husband. For the last fifteen years or so, Daniel had hardly been what Keely would call a happy guy anyway, but since they lost Lillie, the man rarely cracked a smile.
She took another sip and inched up on the reason she'd stopped by. "So then, what will you do for childcare now?"
He shifted his gaze back to her. "What can I do? Guess I'll try the nanny service again."
Keely almost laughed, though it wasn't all that funny. "Will you ask for the one with the alcohol problem or the one who gets sick all the time? Or maybe the one who's in love with you?" Daniel was a Viking of a man, big and buff and really good-looking in his too-serious, borderline-broody way. It wasn't the least surprising that one of the endless string of nannies and babysitters had decided she was meant to become a second mother to his children and show him how to heal his wounded heart.
He pinched the bridge of his manly nose as though he might be getting a headache. "Something will come up." His eyes—of a rather eerie pale blue—had circles under them. Clearly, he hadn't been sleeping well lately.
Keely felt kind of guilty for teasing him. Okay, she harbored some animosity toward him for what had gone down between him and her cousin in the last months of Lillie's life. But that was private stuff, husband-and-wife stuff, stuff Lillie had shared with Keely in strictest confidence.
Daniel wasn't a bad guy. He'd just had to shoulder too much, too soon. On the plus side, he was a man you could count on—and pretty much everyone did. Keely needed to remember his good qualities whenever she felt tempted to blame him for making Lillie unhappy.
He was doing the best he could, and he did have a real problem. President and CEO of Valentine Logging, Daniel worked long hours. He needed reliable childcare for the twins. Yet the nannies came and went. And Daniel's mother-in-law, Keely's aunt Gretchen, had always been his nanny of last resort, stepping up to take care of the kids every time another caregiver bit the dust.
Then two days ago Gretchen tripped and fell—over Jake. The little boy was fine, but Gretchen had four broken bones in her right foot. At seventy and now on crutches, Keely's aunt was no longer in any condition to be chasing after little ones. Daniel needed another nanny, and he needed one now.
And that was where Keely came in.
She knocked back the rest of her scotch. It seared a bracing path down her throat as she plunked her glass on the counter. "Okay, so here's the thing…"
Daniel gazed at her almost prayerfully. "Tell me you know a real-life Mary Poppins. Someone with excellent references who can't wait to move in here and take care of my kids."
"'Can't wait' might be a little strong, and Mary Poppins I'm not. But as for references, your mother-in-law will vouch for me. In fact, Aunt Gretchen has asked me to take over with the kids for a while and I've said yes."
Daniel's mouth went slack. "You? You're kidding."
Should she be insulted? She answered tartly, "I am completely serious. The kids know me, I love them dearly and I'm happy to step in."
He pinned her with that too-pale stare. "It's just not right."
"Of course, it's right. Lillie was my sister in all the ways that matter. Jake and Frannie need me right now. I know you and I aren't best friends, but you've got to have someone you can depend on. That would be me."
"You make it sound like I've got something against you, Keely. I don't."
She didn't believe him. But how he felt about her wasn't the point. Jake and Frannie were what mattered. Yes, he could probably hire yet another nanny from the service he used. But the kids deserved consistency and someone who loved them.
"Great." She plastered on a giant smile. "Daniel. It's going to be fine, I promise you. Better me than yet another stranger."
His brow wrinkled to match the turned-down corners of his mouth. "You're busy. You've got that gallery to run and those quilt things you make."
Quilt things? Seriously?
Keely was a successful fabric artist as well as the proud owner of her own gallery, Sand & Sea, down in the historic district of their small Oregon town of Valentine Bay. And whatever Daniel chose to call the textile arts, he did have a point. Taking care of Jake and Frannie on top of everything else she had going on would be a challenge.
She would manage, though. Gretchen had asked her to help. No way would she let her Auntie G down.
"I'm here and I'm willing," she coaxed. "The kids need me and they know me." She raced on before he could start objecting again. "Honestly, I have a plan and it's a good one. This house has seven bedrooms and only four people live here now—including the twins."
After his parents died, Daniel and Lillie had raised his seven surviving siblings right there in the Bravo family home. All the Bravo siblings had moved out now, though. Except for Grace. A junior at Reed College in Portland, Grace still came home for school breaks and between semesters. She had the only downstairs bedroom, an add-on off the kitchen.
Keely forged on. "I can take one empty upstairs room for a bedroom and one for my temporary studio—specifically, the two rooms directly across the hall from the twins' playroom and bedroom. It's perfect. And most nights, once you're here to take over, I'll probably just go home." She had a cute little cottage two blocks from the beach, not far from her gallery. "But if you need me, I can stay over. With a studio set up here, I can work on my own projects whenever I get a spare moment or two. I have good people working at Sand & Sea, trustworthy people who will pick up the slack for me."
He leaned back against the counter, crossed his big arms over his soft flannel shirt and considered. "I don't know. I should talk to my sisters first, see how much they can pitch in."
Besides Grace, who would be leaving for Portland day-after-tomorrow, there were Aislinn, Harper and Hailey. Aislinn worked for a lawyer in town. She couldn't just take off indefinitely to watch her niece and nephew. As for Harper and Hailey, who'd been born just ten months apart, they were both seniors at U of O down in Eugene and wouldn't be back home until after their graduation at the end of the semester.
And what was it with men? Why did they automatically turn to their sisters and mothers-in-law in a childcare emergency? Daniel had three brothers living nearby. Keely almost hit the snark button and asked him why he didn't mention asking Matthias, Connor or Liam if they could pitch in, too?
But she had a goal here. Antagonizing Daniel would not aid her cause. "Well, of course everyone will help out, fill in when they can. But why make your sisters scramble when I'm willing to take on the main part of the job?"
"It just seems like a lot to ask."
"But see, that's just it. You're not asking. I'm offering."
"More like insisting," he muttered.
"Oh, yes I am." She put on a big smile, just to show him that he couldn't annoy her no matter how hard he tried. "And I'm prepared to start taking care of Frannie and Jake right away. I'll move my stuff in tomorrow, and I'll take over with the kids on Sunday when Grace leaves to go back to school."
He scowled down at his thick wool socks with the reinforced red heels and toes. Daniel always left his work boots at the door. "There's still Gretchen to think about. If you're busy with the kids, who's going to be looking after her until she can get around without crutches again?" Keely's uncle, Cletus Snow, had died five years ago. Auntie G lived alone now.
"She's managing all right, and I will be checking in on her. And that's not all. She's called my mom."
One burnished eyebrow lifted toward his thick dark gold hair as Daniel slanted her a skeptical glance. "What's Ingrid got to do with anything?"
It was an excellent question. Ingrid Ostergard and Gretchen Snow were as different as two women could be and still share the same genes. Round and rosy Gretchen loved home, children and family. Ingrid, slim and sharp as a blade at fifty, was a rock musician who'd lived just about all her adult life out of her famous purple tour bus. Ingrid had never married. She claimed she had no idea who Keely's father was. Twenty years younger than Gretchen, Keely's mother was hardly the type to run to her big sister's rescue.
Keely said, "Mom's decided to change things up in her life. She's coming home to stay and moving in with Aunt Gretchen."
Daniel stared at her in sheer disbelief. "What about the band?"
Pomegranate Dream had had one big hit back in the nineties. Since then, all the original members except Ingrid had dropped out and been replaced, most of them two or three times over. "My mother pretty much is the band. And she says she's done with touring. She's talking about opening a bar here in town, with live music on the weekends."
He just shook his head. "Your mother and Gretchen living together? How long do you think that's going to last?"
"There have been odder odd couples."
"Keely, come on. Those two never got along."
She picked up the bottle of scotch and poured them each another drink. "How `bout we think positive?" She raised her glass. "To my new job taking care of your adorable children—and to my mom and your mother-in-law making it work."
He grabbed his glass. "I would insist on paying you the going rate." He looked as grim and grouchy as ever, but at least he'd essentially accepted her offer.
"Daniel, we're family. You don't have to—"
"Stop arguing." He narrowed those silvery eyes at her. "It's only fair."
Was it? Didn't really matter. If he had to put her on salary in order to agree to accept her help, so be it. "Go ahead, then. Pay me the big bucks."
"I will." He named a figure.
"Done."
He tapped his glass to hers. "Here's to you, Keely. Thank you." He really did look relieved. "You're a lifesaver." And then something truly rare happened. Daniel Bravo almost smiled.
Well, it was more of a twitch on the left side of his mouth, really. That twitch caused a warm little tug in the center of her chest. The man needed to learn how to smile again, he really did. Yes, he'd caused Lillie pain and Keely resented him for it.
But Lillie, diagnosed with lupus back in her teens, had craved the one thing that was most dangerous for her. She'd paid for her children with her life and left her husband on his own to raise the sweet babies she just had to have.
Life wasn't fair, Keely thought. At least there should be smiles in it. There should be joy wherever a person could find it. Jake and Frannie needed a dad who could smile now and then.
"What are you looking at?" Daniel demanded, all traces of that tiny twitch of a smile long gone.
Keely realized she'd been staring at Daniel's mouth for way too long. She blinked and gave an embarrassed little cough into her hand. "Just, um, thinking that you ought to smile more often."
He made a growly sound, something midway between a scoff and a snort. "Don't start on me, Keely. You'll give me a bad feeling about this deal we just made."
It was right on the tip of her tongue to come back with something snippy. Do not get into it with him, she reminded herself yet again. They would be living in the same house at least some of the time, and they needed to get along. Instead of a sharp retort, she gave him a crisp nod. "Fair enough."
Claws clicking gently across the floor, Lillie's sweet Basset hound, Maisey Fae, waddled in from the family room. The dog stopped at Keely's feet and gazed up at her longingly through mournful brown eyes.
"Aww. How you doin', Maisey?" She knelt to give the dog a nice scratch under her jowly chin. "Where's my sugar?" She pursed her lips, and Maisey swiped at her face with that long, pink tongue.
When Keely rose again, Daniel was holding out a house key. "I'll give you a check tomorrow to cover the first week."
"Thanks. I'll be here nice and early with my car full of clothes, equipment and art supplies."
"I can't wait," he said with zero inflection as she headed for the front door. "What time?"
"Eight," she said over her shoulder.
"I'll come over and help."
"No need." She waved without turning. "I've got this."
*
The next morning as Keely was hauling her prized Bernina 1015 sewing machine out to her Subaru in the drizzling rain, Daniel pulled up at the end of her front walk in his Supercrew long bed pickup.
He emerged from behind the wheel, his dark gold hair kind of scrambled looking, his face rough with beard scruff, wearing a heavy waffle weave Henley, old jeans and the usual big boots.
"I told you I can handle this," she reminded him as he took the sewing machine from her.
"You're welcome. Happy to help," he said, and for a split second she imagined a spark of wry humor in those ice-blue eyes.
She remembered her manners. "Thank you—and be careful with that," she warned. "Those aren't easy to find anymore, and they cost a fortune." She swiped at the mist of raindrops on her forehead, then stood with her hands on her hips watching his every move as he set the machine carefully in the backseat of his truck. When he shut the door again, she asked, "So Grace has the kids?"
"Yeah, they're with Grace. Let's get the rest." He headed up the walk, his long strides carrying him to the front porch of her shingled cottage in just a few steps.
She hustled to catch up. "You want some coffee? I can make some."
"I had two cups with breakfast. Let's get this done."
*
Half an hour later, all her equipment, including her spare Bernina, a 1008 model, a raft of art and sketching supplies and the giant pegboard loaded with industrial-sized spools of thread in just about every color known to man, was either in the rear seat of his crew cab or tucked in the long bed beneath the camper shell. He'd loaded up her two collapsible worktables, too, and the smaller table she liked to keep beside her easel. That left only her suitcases to go in the Subaru. She'd figured it would take three trips to get everything up to the Bravo house. Thanks to Daniel, they would get it done in one.
"See you back at the house." He climbed in his truck.
"Thank you. I mean that sincerely."
With a quick wave, he started the engine and drove off.
She locked up and followed him, leaving the mist-shrouded streets of town to head up Rhinehart Hill into the tall trees and then along the winding driveway that led to the beautiful old Bravo house, with its deep front porch flanked by stone pillars.
Keely stopped behind Daniel's truck, in the turnaround in front of the house. She grabbed her biggest suitcase and hauled it inside and up the curving staircase to the room she planned to use for sleeping whenever she stayed over.
He emerged from the other room to meet her as she headed back down. "I'm putting your sewing stuff in the white room." He shot a thumb back over his shoulder. "You're using it for work, right?"
"How'd you guess?"
"It has better light than the other one. You want me to get the bed and dressers out of there?"
"I can use the dressers for storage, if that's all right. Are they empty?"
"I think they've got a bunch of old clothes nobody wants in them. Just clear out the drawers, and I'll take everything away."
"Thanks." Note to self: be nicer to Daniel. He really was a handy guy to have around when a girl needed to get stuff done. "And as for the bed, yes please. I would like it gone."
"I'll have it out of there before dinnertime." And off he went down the stairs to bring up the next load of her stuff.
She peeked into the kids' bedroom and also the playroom before following him. Nobody there. Grace must have them downstairs somewhere.
Working together, they hauled everything up to her two rooms, bringing the big thread pegboard up last.
"You want this board mounted on the wall?" he asked.
"That would be terrific."
"I'll get to that tonight. Once we get the bed out, we can set things up pretty much like the room you were using at your place."
It was exactly what she'd hoped to do, and she got a minor case of the warm fuzzies that he'd not only pitched in to help move her things, he'd also given real thought to making her as comfortable as possible in his house. "Totally works for me. Thanks."
With the barest nod of acknowledgment, he pulled a folded scrap of paper from his pocket—a check. "First week's pay." She took it. "I need to go on up to Warrenton," he said. Valentine Logging operated a log sorting and storage yard, deep water and barge cargo docks, and a log barking and chipping facility in nearby Warrenton at the mouth of the Columbia River. The company offices were there, too. "You planning to look in at the gallery today?"
"I am, yes. But I'll be back in the afternoon, ready to take over with the kids."
"No rush. Grace is here until tomorrow. She'll watch them today and tonight so you can get settled in."
That didn't seem fair. Grace had spent her whole week helping with the kids. "I'm fine on my own with them."
His regular frown got deeper. "Grace'll be here. In case you need her."
She considered the wisdom of arguing the point further. But his mouth was set and his eyes unwavering. Maybe not. "See you later, then."
With a grunt, he turned and went down the stairs.
*
From the docks in Warrenton, Daniel called a handyman he trusted to haul the bed from the white room down into the basement. He'd been feeling pretty desperate yesterday when Keely showed up to save his bacon on the childcare front.
True, her offer had seemed like a bad idea at first. He'd been afraid they wouldn't get along. In the last years of Lillie's life, as his marriage unraveled, Keely had never said a mean word to him directly. But he got the message in her disapproving glances and careful silences whenever he happened to be in the same room with her. She'd been firmly Team Lillie, no doubt about it. Still, for the twins' sake, she'd stepped up to provide the care they needed.
It was important to do everything he could to make her happy in his house. He planned to be home for dinner and then to help her get everything just the way she wanted it.
But the day came and went. By late afternoon, he still needed to go through the stack of paperwork he hadn't managed to get to during the week. After a short break to grab some takeout, he headed for the office, ending up by himself at his desk until after seven.
When he finally pulled his truck into the garage, he caught Grace, in tight jeans and full makeup, as she was coming down the stairs from the inside door. She flashed him a smile and tried to ease past him on the way to her car.
"Hold on."
"Daniel." She made his name into a serious complaint. "I have to go. I'm meeting Erin at—"
He caught her arm. "We need to talk."
"But—"
"Come on."
She let out a groan, but at least she followed him back into the house. "What? Can you please make it quick?"
"Let's talk in my study." She trudged along behind him to his home office off the foyer. Once they were both inside, he shut the door. "The kids and Keely?"
There was an eye roll. "Jake and Frannie are already in bed. Keely's upstairs putting her stuff away, fixing up her room and her workroom. She said it was fine for me to go."
A hot spark of anger ignited in his gut. But when he got mad, Grace just got madder. He reminded himself to keep his cool. "The agreement was that you would give Keely a hand tonight, help her get comfortable, pitch in with the kids." He kept his voice level. Reasonable.
Still, Grace's eyes flashed blue fire. "The kids are in bed. Got it? And what agreement? You told me what to do as you were going out the door."
"Grace, I—"
"No. Uh-uh. I talked to Keely. I asked her if she needed me. She said go, have fun."
"Of course, she would say that."
Grace looked up at the ceiling and blew out a furious breath. "You know, some people go to Cancun for their spring break. Me, though? I come home and help your mother-in-law look after your kids. And then when she trips over Jake, it's just me. Until Keely stepped up—which I totally appreciate. Keely's about the best there is. But me, I've got one night. One night of my spring break to myself. A few hours with my friends, and then I'm on my way back to school."
When she said it like that, he felt like an ogre. A litany of swear words scrolled through his brain. Playing stand-in dad to his own sisters and brothers should be more rewarding, shouldn't it? How come so much of the job just plain sucked?
She's the last one at home, he reminded himself. He was pretty much done with raising his siblings.
Too bad he still had a couple of decades ahead with his own kids.
"Come on, Grace. Don't exaggerate. You've spent time with your friends this week."
"Not much, I haven't."
"You went out last night, remember?"
Another giant sigh. More ceiling-staring. "For like two hours."
"I want you to stick around tonight in case she needs you."
"But I promised Erin—"
He put up a hand. "You're needed here. And that's all I have to say about it."
If looks could kill, he'd be seared to a cinder. He waited for the yelling to start, dreaded the angry words about to erupt from her mouth—I hate you, Daniel and Who died and made you king? and the worst one of all, You are not my father.
As if he didn't know that. As if he'd asked for the thankless job of seeing that his brothers and sisters made it all the way to fully functioning adulthood without somehow crashing and burning in the process.
But this time, Grace surprised him. "Fine," she said way too quietly. And then, shoulders back and head high, she marched to the door, yanked it wide and went out.
He winced as she slammed it behind her. And then, even with the door shut, he could hear her boots pound the floor with each step as she tramped through the downstairs to her room off the kitchen—and slammed that door, too.