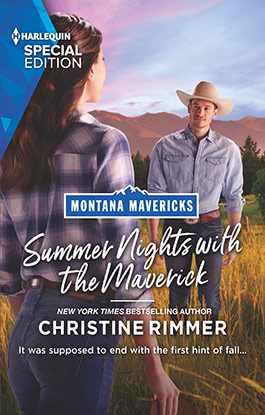 ISBN: 978- 1335724014
Summer Nights with the Maverick
July 2022
He's a hero in spurs.
But just for tonight…
Ever since rancher Weston Abernathy rescued waitress Everlee Roberts at Doug's bar, he can't get her off his mind. But the spirited single mom has no interest in a casual relationship, and Wes isn't seeking commitment. As the temperature rises, Evy feels the heat, too, tempting her to throw her hat in the ring regardless of what it might cost her heart…
Montana Mavericks: Brothers and Broncos, Book 1
What Readers are Saying
"…Loved the story. Once I started it I just could not put it down. As with any Christine Rimmer book you know it will be good. Usually when I pick up a book written by her I plan on reading the entire day. This book did not disappoint."
5 stars, Phylis Carpenter, Goodreads reviewer
"OMG…this story is freaking fantastic. I was sick with COVID and really needed something to lift my spirits and this is it. Weston cannot get Evy off his mind and Evy doesn't want a relationship. But these too are fire and cannot stop the chemistry..."
5 stars, Jennifer, Bookbub reviewer
"I loved the two main characters in this book so much, and the little girl was just the cuteness. The romance in the book was so moving, but I really enjoyed it. This is all about the fun time boy meets a single mom and falls in love with her and her little girl, and I was living for this book. This book pulls me into the story so fast, and I did not want to put it down at all."
4 stars, Tina, Goodreads reviewer
"…Add in some meddling by Weston's brothers, an absolutely precious puppy, utterly charming, little Lola, a kitten, and the fact that this is, after all, a romance novel, and you've got one sweet, slightly sexy romance with an HEA ending. If you're looking for a feel-good, western-themed, romance read, I think you'll like this one…"
4 stars, Donna Repsher, Goodreads Reviewer
"Weston Abernathy set his eyes on Everlee Roberts and hasn't looked back. The only thing stopping him is he doesn't want a long-term relationship. Everlee is a single parent who works at Doug's Bar who has dreams of opening her own business… I loved this book and it was definitely a quick read. Great beach read, that's for sure…"
5 stars, JudyRudy, Goodreads reviewer
"…Wonderful story from start to finish! Great characters and storyline. Hard to put down once I started reading…"
5 stars, Karen Geurts, BookBub reviewer
"An awesome page turning romance with dynamic characters and lovable furbabies and even a hint of mystery!!!"
5 stars, Lynda Kirby, Goodreads reviewer
Chapter One
Everlee Roberts wished she had wings on her ugly black anti-slip working shoes.
At eight in the evening on July 2, Doug's bar in Bronco, Montana, was packed and likely to get more so. From the regular folks right there in Bronco Valley to the rich ranchers and other power brokers who lived in Bronco Heights, the whole town loved to hang out at Doug's. It was that kind of place, the kind where everyone was welcome, and no one sat alone.
On a night like tonight, the jukebox played nonstop, a cowboy could wait hours for his turn at a pool table and anyone who wanted to be heard above the din would just have to shout. All the scarred wooden tables were full.
As for the bar, forget finding a seat. Every stool had an occupant—except the famous haunted stool, of course. According to local legend, if you sat on that stool, you were just looking for trouble. Folks claimed that a guy named Henry Jamison with a talent for playing the stock market once sat on that stool. Henry promptly lost everything in a deal gone bad.
And Henry wasn't the only one to lose big after daring to claim that stool. A happily married fellow went home to find the wife he adored in bed with another man. It got worse. Not that long ago, one unfortunate customer named Bobby Stone even died after taking a seat on that stool—or so the legend went.
For years now, Doug Moore, the bar's owner, had kept that stool roped off with yellow caution tape. Recently, Doug had taken things a step further. He'd added a sign that warned: Death Seat. And even on a night like tonight, when Everlee couldn't serve the drinks fast enough and customers constantly jockeyed for a chair, no one took a chance on the haunted stool—so far, anyway.
But never say never.
After all, it was day one of Bronco's four-day Independence Day celebration, Red, White and Bronco. People were ready to party. And that meant that someone might yet end up braving the threat of that stool.
Just that afternoon, the Miss Bronco Beauty Pageant had taken place in Bronco Park. The winner? Charity John, a local rancher's daughter. After two years as first runner-up, Charity had finally claimed the crown. Just about everyone in town had rooted for the pretty blonde. She was smart, beautiful, kind and talented. The perfect Miss Bronco.
As for Everlee, a Miss Bronco contender herself a while back, tonight she was raking in the tips. She zipped around between the tables and the bar, racing to fill orders swiftly. Fast service, after all, meant even better tips.
Working the floor at Doug's was not Everlee's dream career. But it brought in a lot more than checking groceries or cleaning house for the rich folks in Bronco Heights. True, now and then a random cowboy might get a bit grabby, but she knew how to put most of them in their place with a warning look—and if things somehow slipped out of her control, Doug would step in and deal with the problem. Doug Moore might be well into his eighties, but he knew how to handle a badly behaved cowpuncher.
"Everlee!" shouted a baby-faced cowboy. "'Nother round, pretty lady!"
She pointed at her nametag and cheerfully shouted right back. "What'd I tell you, handsome? Call me Evy!"
The cowboy put on a pouty face. "Aw, c'mon, beautiful. Doug calls you Everlee. Why can't I?"
"Because you're not Doug!" The smooth, commanding voice came from over by the door. A shiver of unwilling awareness ran down Evy's spine. Weston Abernathy had arrived, his four hot and handsome brothers in tow.
Abernathy was an important name in Bronco. Weston and his brothers were cattlemen who had it all—including the endless, rolling acres of their beautiful ranch, the Flying A.
Not that Evy cared in the least that Weston was hot and rich. A hardworking single mom with an amazing little girl to raise, she had no spare time and zero energy to waste obsessing over some guy. Ignoring the fluttery sensation in her belly, Evy sent Wes a quick nod of acknowledgment and kept on moving.
Because when it came to good-looking, charming rich men?
Uh-uh. Never again. Been there. Saw the movie. Bought the T-shirt—and came away sadder and a whole lot wiser.
The Abernathy brothers immediately snagged the only empty table in the place. They reached it just as the family who'd been sitting there for a couple of hours conveniently decided it was time to head home. Evy dropped off a trayful of drinks at a corner table and served the baby-faced cowboy his pitcher of beer. She delivered two heaping platters of Doug's famous chili cheese nachos to an eight-top by the dance floor.
After that, she went on over to wait on the Abernathy boys—including Wes, who really was way too good-looking. Not to mention fun and friendly with a great sense of humor and dazzling sea-blue eyes.
Sam, the busman, cleared the table.
Evy quickly wiped it clean. "Okay, what can I get for you boys?" She gave Sam his damp towel back and off he went with a full tub of dirty dishes.
The brothers ordered a couple of pitchers along with some nachos, sliders and fries. She gave them all her brightest smile and said she'd be right back with the beer.
In the split second before she made her escape, Wes asked, "How're you doing, Evy?" Such a simple, innocent question. Nothing charged or meaningful about it. Just one of those things people say when they're making small talk.
And yet that question had her stomach swooshing and her mind going dead blank. "Uh. Great, Wes. Just great."
He looked at her so steadily. "That's what I wanted to hear." And then he smiled that crooked smile of his, the one that made her wish for things that were never going to happen.
"Great," she said—again. Because apparently great was her new favorite word. "Well, I'll be right back with that beer." And off she went, her cheeks too warm and her heart beating far too fast.
As she took another order and then made a quick stop at the bar to pick up the two pitchers, she reminded herself that she was twenty-five years old, a grown woman. She needed not to fumble for words like a smitten preteen every time Wes Abernathy said hello.
The mental talking-to helped. She managed to serve the Abernathys their drinks and then their food without stumbling all over herself.
True, now and then as the evening progressed, she caught herself glancing Weston's way and loving that delicious little thrill that vibrated through her every time her eyes met his. Each time that happened, she sternly reminded herself to cut it out right now.
But why did he always seem to be looking right at her when her gaze strayed in his direction? They'd been doing this for months now, kind of dancing around each other.
Way back last summer, the first time she'd waited on him, he'd asked her where she'd been all his life. She had granted him a cool smile. "Busy. Very busy. What'll you have?"
That had shut him up. But not for long.
The next time he came in, he tried again. She'd set his beer in front of him and he'd asked her what she was doing Friday night.
She came back with, "Working. And I never go out with customers."
"Well, Evy, I'm really hoping I can find a way to change your mind about that."
She just shook her head and moved on to the next table full of thirsty cowboys.
For several months after that, until well past Christmas, he came in less often and when he did, he never seemed more than mildly friendly. She'd wondered if he'd met someone—and then she'd reminded herself that it was good if he had a special someone now. A special someone meant he was done flirting with her.
Now and then, though, even during those months when he seemed to be keeping his distance from her, she would feel his gaze on her, warm and intense. She just knew he was about to make a move on her again.
But he didn't.
For a while, she'd been certain she'd discouraged him permanently—which was good, she'd reminded herself. She didn't want him pursuing her.
But then lately, he'd started showing up more often. And every time she glanced his way, those blue eyes were waiting. He hadn't tried to ask her out again or anything. But she got that feeling that he wanted to, that he was working up to it. She had a sense that he was biding his time, waiting for an opening, that any night now, he would try to strike up a real conversation with her, try to find a way to get closer to her.
Now, she really had her guard up with him. Whenever he spoke to her, she would answer as briefly as possible—and race off to wait on someone else.
So far, she'd never exchanged more than a few words with him per encounter. She had every intention of keeping it that way, too, though she found it more and more difficult to resist the invitation in those fine eyes of his. She had to constantly remind herself not to go there with him, to concentrate on doing her job, to keep things strictly professional. She took special care never to stand in one place long enough that he might make a real move, might try to get her to meet him for coffee, or even ask her out.
At least tonight, staying on the move presented no challenge at all. Doug's only got busier as the hour got later. It seemed like everyone in town was hanging out at the bar tonight—including ninety-five-year-old Winona Cobbs, Bronco's resident psychic.
Slim and delicate looking, almost birdlike, Winona was one of a kind. Not only was she smart and eerily perceptive, but she had her own distinctive style. Evy loved a woman with style. Someday, she hoped to open her own little shop where she could help the women of Bronco express themselves through bright, unique, reasonably priced fashion.
Tonight Winona wore a gold-spangled white Western shirt with a sequined pink vest and pink jeans. Her tooled white boots gleamed with gold thread and rhinestones. A pink turban crowned with a bobbing white feather covered her snow-white hair.
Evy admired Winona's great outfit, and then, for no reason at all, turned to look at Weston. He saw her do it and gave her a grin.
What was the matter with her? The whole point was not to go ogling Wes. Evy straightened her shoulders and swiveled her head back around—to find Winona staring right at her.
The network of wrinkles deepened on the old woman's narrow face as she slowly smiled. She actually winked at Evy and crooked a finger, beckoning.
Resigned, Evy went to her.
"Love in bloom," Winona said sweetly. "Such a beautiful thing."
People said Winona was not only psychic, but that she also had a knack for putting couples together. Folks in town claimed Winona paired people up and set them on the road to true love.
Well, Evy wanted none of that ridiculousness. "Sorry," she said to the psychic. "You've got it all wrong. Love is not on the menu, at least not for me." Before the old woman could come back with some mysterious pronouncement about taking a chance on romance, Evy turned the tables on her. "But tell me all about your love life, Winona."
The white feather on her turban bobbed as Winona laughed. "My love life? Well, I will say this much. When it comes to love, it's never too late…"
*
"You need to knock that off," muttered Garrett, Weston's oldest brother.
"No idea what you're talking about." Wes took a gulp of his beer.
Garrett grunted. "You're always staring at her."
Wes, like their younger brother Crosby, was a lighthearted guy as a rule, but he could level an icy stare with the best of them. He turned a freezing look on Garrett. "Staring at who?"
Garrett scoffed. "So that's how you're going to play it."
"Drink up." Wes indicated his brother's full mug. "Relax for once."
Garrett shook his head—but he did shut up about Evy.
Over at one of the pool tables, their brother Dean had just beat Tyler, the youngest of the five of them. Dean gave Garrett the high sign.
Garrett nodded at Dean and said to Wes, "My turn at the pool table." He shoved back his chair. "We all right?"
"Always," Wes replied.
Garrett clapped Wes on the shoulder and left to grab a cue.
Wes sat back and surveyed the action.
On the dance floor, his brother Crosby was two-stepping with a pretty blonde in a yellow dress. The blonde seemed fun and flirty—and Crosby laughed at something she said.
Wes's gaze strayed to Evy again. She was passing out food orders two tables over, smiling so pretty, nodding as one of her customers asked her a question.
Okay, fine. Garrett had a point. Wes shouldn't be staring at Evy. He shouldn't be thinking of her all the time. Shouldn't be constantly trying to figure out how to get close to her.
But he was.
He wanted to start a real conversation with her, wanted to move beyond, Hi, how are you? He wanted to take her out, get to know her, spend a little quality time with her.
He had that feeling about her—that she really did like him. A lot. He just knew she felt as powerfully attracted to him as he did to her. And yet, she avoided him at every turn.
The first time he'd spotted her, almost a year ago now, right here at Doug's, he'd thought, That girl, right there. I want to get closer to her…
Damn, she was pretty, with shining black hair and eyes green as shamrocks.
From the first, he'd admired the proud way she carried herself, enjoyed the musical sound of her laughter. Men tried to cozy up to her. She never gave any of them more than good service and a friendly smile. It was no different for him. The first time he tried to talk to her, she'd shut him right down.
He began asking around about her and he'd learned that she had a daughter named Lola. Folks said that Evy had met some guy in college, but it hadn't worked out. She'd moved back home to Bronco to have her baby.
Once he'd learned about little Lola—who was four now from what he'd heard—Wes had decided to leave Evy alone.
He liked his interactions with women to be easy and casual. It felt wrong to pursue a young mother when all he wanted was a few laughs and some hot kisses. Nothing serious. And nothing permanent.
He'd learned his lesson about that back in college. Back then, he'd been deeply in love and engaged to be married. The relationship had blown up in his face and he wouldn't be going there again.
So when he learned that Evy was a mom, he'd decided to forget about her.
Too bad forgetting Evy Roberts was easier said than done.
He couldn't forget Evy.
Couldn't stay away, either. For the last few months, he'd been stopping by Doug's a couple of times a week just to see her, to hear her voice, to watch the warm, efficient way she dealt with her customers, the way she managed to be gracious and fun and no-nonsense all at the same time.
He liked everything about her. And he'd started thinking, well, so what if she had a little girl? He could work with that. Take it one day at a time. Just see how things went. Keep it fun and casual.
It didn't have to be a big deal. If nothing else, they might become friends.
Which was why tonight, he was through holding back. Tonight he would make a real move, at last.
Rising, he pushed in his chair and followed at a distance as she carried an empty serving tray to the end of the bar next to the famous haunted stool. She slid the tray onto the bar and signaled Doug that she had drink orders for him to fill.
But the bar owner was busy pouring beer for a couple of talkative cowhands. Evy should have time to exchange a few words.
If Wes could strike the right tone, he might convince her to meet up with him during Red, White and Bronco—they could get together at the rodeo tomorrow or at the barbecue on the Fourth. No pressure, just hanging out, getting to know each other.
Casual. Fun. No big deal.
He was directly behind her, about to step up beside her and turn on the charm. He knew this was it. He would make it happen at last. Before Doug turned to take Evy's order, he intended somehow to magically convince her that they needed to get to know each other better.
Hey, fortune favored the bold, right? And Wes was a pretty fast talker.
He'd just opened his mouth to say something charming when the window on the other side of the Death Seat shattered. A fist-sized object came hurtling through it.
Right at Evy.