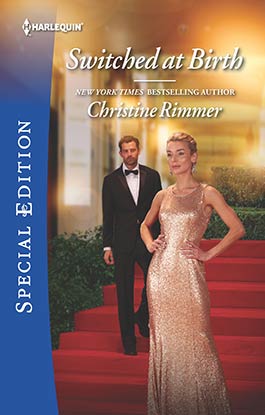 ISBN: 978-1335573834
Switched at Birth
May 2019
A NEW IDENTITY, A NEW LOVE
Ever since Madison Delaney learned she was switched at birth, her life has been in a tailspin. The Hollywood actress arrives in Valentine Bay hesitant to reveal herself to her new family, but she quickly encounters Sten Larson living next door. The down-to-earth shipbuilder makes Madison question everything she thought she wanted. Can a movie star find happiness in small-town Oregon?
The Bravos of Valentine Bay:
They're finding love
—and having babies!—
in the Pacific Northwest
What Readers are Saying
"I absolutely loved Switched at Birth and couldn't put it down finishing it well into the early morning hours. This is a standalone book, but I also suggest reading, at least, Almost a Bravo to learn about some of the backstory. The entire series is well worth your time. I'd like to disclose that I received an advance copy and it was my decision to read and review it. This is my honest opinion. I look forward to reading the next book in the series."
Judyrudy, Goodreads, 5 stars
"Madison Delaney has had a perfect life for the first 27 years. She followed her dream and became "America's Darling" and has a great acting career. Then came the news that she had been switched at birth and goes on a quest to meet the family she never knew she had. Add in a hunky neighbor and his adorable niece and you have a great story to read. I really enjoyed Madison's quest to find out who she is and to find the family she always wanted."
Cassie, Goodreads, 5 stars
"I loved the hero. He was a dream. I enjoyed the book due to the fact the plot line was not of the normal everyday variety. It has so many different layers of emotion and actions throughout this entire story it made it captivating to me. The writer is truly talented in bringing the readers imagination to life. You need to buy this one and clear your mind and just sit and enjoy a very different book."
Anna Swedenmom, Goodreads, 4 stars
"Written with humor, romance and sensuality, this tale is a must read for Bravo followers."
Amary Chapman, Goodreads, 5 stars
"This is a read that delivers everything you expect to find in a romance book. It kept me entertained to the end."
Diane Saul, Goodreads
Prologue
"Happy birthday to me," Madison Delaney muttered glumly to her enormous and beautiful bedroom in which she slept alone. It was the second of March and she was officially twenty-seven years old. "Big whoop."
Still lazing in bed at ten in the morning, Madison finished the delicious almond essence latte whipped up for her by her excellent housekeeper, Ada. She set the coffee tray on the bed table and considered getting dressed.
But seriously, why rush? She had nothing to get dressed for. This year, she was spending her birthday at home—if you could call her huge, gorgeously decorated but essentially empty hilltop mansion in Bel Air a home. Really, she was almost never here. But due to a perfect storm of scheduling conflicts, ongoing script changes and a bunch of big-time special effects set pieces that required "further development", Madison found herself with time off.
She didn't like it. Working, after all, was what she did. Time off made her feel all prickly inside her own skin, like there was something she should be doing but she couldn't quite remember what.
Maybe she ought to call a couple of friends and go out this evening. But then again, there was no one she wanted to hang with all that much. She got along with everyone, but that didn't mean she felt close to them. And too often when she went out for a good time, it ended up with her surrounded by photographers barking rude questions at her and her security team keeping them at bay. What fun was that?
"Goals," she grumbled, and climbed out of bed to rummage through the drawers of the central-island dresser in her embarrassingly large walk-in closet full of fabulous clothes and designer shoes.
She didn't have to rummage long. Her notebook was right where she'd put it a year ago today, in the back of a lingerie drawer beneath a blue silk La Perla corset she'd yet to wear. The pink spiral-bound notebook had glittery butterflies on the front. Stuck in the binding coil was a purple pen. The pen, which produced glittery metallic ink, was relatively new.
The notebook? A little tattered around the edges, with a lot of the glitter worn off the butterflies. Her mom had presented it to her the day she turned six.
Today, as she had every birthday since then, she took the notebook and the pen and returned to the bed. Sitting cross-legged on top of the covers, she pulled the pen from the coil and opened the notebook to the next empty page. Her objective: formulate three main goals to accomplish during her twenty-seventh year.
Frankly, she had zip on the goals front this year and she fully expected to squander a large amount of time staring at a blank page and trying not to think how uninspired she felt about life and work and just about everything else lately.
But then the weirdest thing happened.
Her pen seemed drawn to the page of its own accord and her three goals materialized as if by magic:
Lose virginity
Retire from acting
Get a life
Whoa. Who knew? Apparently, this was a banner year. Up until this moment, she'd had no clue.
As she sat frowning at her totally unexpected annual objectives, she heard a faint sound downstairs.
Was the doorbell ringing?
Not that it mattered. Now and then an especially enthusiastic fan got past the front gate and made it to the door. Someone would answer, give the fan something with Madison's autograph on it and call security to escort the trespasser back outside the gate.
Madison recommenced staring at her new, glittery goals and wondering why she wasn't more upset at the very thought of turning her back on her mega-successful career. After all, it was a career she'd pursued with single-minded purpose since her first set of goals written down slowly and laboriously with her mom's help in this very notebook on the day she turned six.
As for getting a life and dispensing with her V-card? Both of those made perfect sense. She would be thirty in no time at all. She needed a life and a sex life. She needed them yesterday, maybe sooner.
At the sound of a gentle tap on the outer door to the upstairs hallway, Madison glanced up. "Come on in!"
Ada, in a calf-length linen dress, her graying brown hair piled in a messy bun, bustled in through the sitting area. She marched to the bedside table and picked up the coffee tray. "You need to eat."
"I will." Madison chewed thoughtfully on her purple pen. "Soon. Did the doorbell ring?"
"Yes. Jonas Bravo is here." Ada wore a bemused sort of frown.
Madison frowned, too. "Did you say Jonas Bravo?"
"That's right."
Madison had never met the man. But she did know of him. Everyone knew about Jonas Bravo. His family was Los Angeles royalty. He had billions—the paps even called him the Bravo Billionaire. And he was her neighbor, more or less. He lived with his beautiful wife and their children in an even bigger house than Madison's, also in Bel Air, a world-famous house called Angel's Crest. Jonas Bravo was not in the movie business, but he and his billions were involved in just about every other industry in LA. And he sometimes invested in films.
"Sorry." Ada shrugged. "I don't know what got into me. I've been reading the stories about him since I was old enough to get a copy of the National Enquirer and I was so surprised to see him on the security monitor when he buzzed the front gate that I told Sergei to let him in." Sergei was on Madison's security team. "Then, when he rang the doorbell, I just stepped back and ushered him inside. He asked to speak with you, so I put him in the sitting room. I really do apologize, Mad. It was not my call. But I mean, he is the Jonas Bravo."
"No. It's okay, really."
"He looks just like his pictures."
"It's fine," said Madison. "I hear you. You did the right thing." Madison glanced down at her rumpled pink sleep shirt and gray sleep shorts. "I need to change." She dropped her butterfly notebook and jumped from the bed. "Just let me put on a decent pair of jeans and a top that doesn't look like I slept in it. Go ahead and tell him I'll be right down."
*
Ten minutes later, Madison was shaking hands with the legendary Bravo Billionaire. He looked good, she thought, tall and broad-shouldered, with striking dark blue eyes and thick graying hair.
Once they'd said hello, he wished her a happy birthday. She thanked him, not finding it especially strange that he knew. The date of her birth was public knowledge, after all.
After the birthday wishes, the first words out of his mouth were, "Let me congratulate you on the protectiveness of your staff."
She backed off a step. "You've been trying to reach me?"
"This is my first attempt. But rumor has it you're a very hard woman to get in touch with. I confess, I hoped the element of surprise would work in my favor, that someone might just let me in."
"And someone did—coffee or something? Ada makes an amazing latte." When he shook his head, she cut to the chase. "What can I do for you, Jonas?"
"I was recently contacted by an elderly gentleman named Percy Valentine." Jonas said the name slowly and then fell silent, apparently waiting for her reaction. When she gave him none, he asked, "You've never heard of Percy Valentine?"
"No, I haven't."
Jonas launched into a story about how this Valentine guy was related to a branch of the Bravo family in a small coastal town in Oregon called Valentine Bay. "Percy's been trying to get in touch with you since last summer. He tells me he's spoken to your personal assistant, your manager, your housekeeper and also someone at your agency, but he's yet to get any of them to put him through to you."
"I'm sorry," said Madison, and she was—a little. Really, though, a lot of people tried to get through to her: journalists, fans, screenwriters, would-be producers with projects to pitch her, stalkers and other crazies, too. Her people protected her. If this Valentine person hadn't been able to get in contact, there was probably a very good reason her team had kept him away. "I work a lot and I've given orders that only high-priority calls get through."
"Which is why I'm here," said Jonas. "Percy hoped that I might be able to accomplish the impossible and actually get a word with you…"
Madison was starting to feel distinctly uncomfortable and she wasn't sure why. "Did this Percy Valentine happen to tell any of my people what he wanted to talk to me about?"
Jonas answered carefully. "It's sensitive information."
"So then, he never said why he needed to reach me?"
"He did, yes. He explained everything to your personal assistant."
"Rudy or Valerie?"
"Valerie Daws. Percy even sent proof of his claim. He never heard back. When he tried to call your PA again, he couldn't get through."
Valerie had been very ill for a few months the previous year. She'd ended up having to quit and Madison had hired Rudy Jeffries, her current PA. It was possible that the information Percy Valentine had sent had slipped through the cracks, somehow. "What kind of claim are we talking about here?"
Jonas slanted her the strangest look. "I think we should sit down."
Alarm flashed through her. People always suggested sitting down when they were about to come out with some horrible bit of news.
Madison squared her shoulders. "Of course." She gestured toward the nearest sitting area and followed him over there. He took an easy chair. Her knees wobbly now, she sank to the sofa. "All right. What?"
The Bravo Billionaire just looked at her. For a really long time.
"What?" she demanded again.
He glanced away and then back. "I'm just going to say it."
"Please do."
"There is good reason to believe that you were switched at birth and that your biological parents were George and Marie Bravo of Valentine Bay, Oregon."
A gasp escaped her as her stomach performed a forward roll.
It really was a good thing he'd made her sit down. If she'd still been on her feet, she probably would have crumpled to the floor—and it wasn't true.
It couldn't be true!
But before she could cry out that he had to be wrong, Jonas added, "Percy said to tell you that the switch took place on a ranch called Wild River not far from Astoria, Oregon."
Wild River Ranch.
Okay, yeah. Twenty-seven years ago today, Madison had been born at Wild River Ranch. A few months after her birth, her dad had found another job in a different state and they'd moved on, like they always did.
But after her father died, when she and her mom moved to LA, they'd made a detour to northwestern Oregon—not to the actual ranch, but to the area. So that Madison would know where she came from, her mom had said with the saddest, strangest look in her eye.
In one of the few pictures Madison had of her father, Lloyd Delaney stood in front of the foreman's cottage at Wild River, smiling proudly, cradling a pink-blanketed bundle: Madison herself, just a few days after her birth.
No. It couldn't be true. Lloyd and Paula Delaney might have had their problems. But they had loved their only daughter unconditionally. Her dad was always saying how she had that "Delaney" look about her. Madison had no doubt that she was everything to him and to her mom, truly theirs, in every way.
"Yes," she gave out grudgingly. "I was born at Wild River Ranch in northern Oregon. But that doesn't mean—"
"Just let me say what I came to say." Jonas spoke very gently, silencing her arguments simply by being so patient, so kind.
"All right." She listened, her breath tangled, hot in her chest, her pulse racing, as the Bravo Billionaire shared what he knew.
At first, his words were a blur to her. She tried to focus, to understand.
Jonas said that a man named Martin Durand had made the switch. He did it because the other baby, the one raised by the Bravos, had been the result of Durand's secret affair with Paula Delaney. Durand, now deceased, was a married man. He'd been afraid that Paula would come after him and demand a paternity test.
"It was a totally out-there move on Durand's part," said Jonas. "The truth might very well have come out earlier if Paula had gone ahead and tried to prove Durand's paternity. The test would have shown that you were not related by blood to Durand or her husband, Lloyd—or even to Paula herself. She would have remembered that Marie Bravo gave birth to a child at the ranch on the same day that she did, would have put it together that somehow there must have been a switch."
"But I don't understand. If it all would have led back to Durand, anyway, why did he do it?"
"Apparently, he was freaked. He didn't stop to think it through. And then, after he'd switched you with Paula's baby, he had no opportunity to switch you back. You grew up with the Delaneys, believing that they were your biological parents, and if Paula ever told Lloyd that she doubted you were his—"
"Stop." Madison put up a hand. "I get it. That's enough, really."
"I understand. It's a lot to take in." Jonas stood from the chair. Moving on autopilot, Madison got up, too.
He held out a thumb drive.
She stared at it, shaking her head.
"It's all on there," he said, "everything I just explained to you and more, including pictures of your large family in Oregon and Martin Durand's final letter confessing what he did. I think you'll agree that the resemblance between you and three of the Bravo sisters is especially striking—and of course, when you're ready, there will be DNA tests providing conclusive proof. Also, you'll find contact information for Percy Valentine and your Bravo brothers and sisters. My numbers are there, too. And my door is always open to you, Madison." He took her hand.
She let him do that, let him set the memory stick in her palm and fold her fingers around it.
Was she dreaming? Her moorings to her life, her identity, her self—everything. It all felt torn loose and dangling.
The oddest thought occurred to her. "So then, are you saying that we're related, too, you and me?"
"Yes. You and I are second cousins. Your grandfather and mine were brothers. The extended family is a large one."
When her mom died four years ago, she'd lost the last of her family—or so she'd believed at the time. "And you said that the family in Oregon is large, too?"
"George and Marie Bravo had nine children." He turned for the door.
"Had?" she asked his retreating back.
He paused in midstep and faced her again. "George and Marie were very fond of traveling. One of the children, Finn, was lost on a trip to Russia years ago. The family continues to search for him."
"And George and Marie Bravo, what are they like?"
"I'm sorry, Madison, but two years after Finn disappeared, George and Marie died on another trip, that one to Thailand."
"Oh." The word came out wobbly, more breath than sound, as a wave of sadness washed through her for the lost boy—and for George and Marie Bravo. If they actually were her birth parents, she would never know them now.
"Listen." A look of concern had creased Jonas's brow. "How about if I stay until you've had a chance to check everything over?" He tipped his head at her white-knuckled fist and the memory stick she clutched in it.
"No!" she replied much too sharply. She needed to be alone for this. She needed time to absorb it all and reject it—or to claim it in her heart, take it under her skin. "I, well, would you please thank Percy Valentine for me?"
"Absolutely."
"Would you explain that you've spoken with me and given me all the information he sent you?" Her mouth felt so dry. She swallowed and forged on. "I'm going to need some time…"
Jonas Bravo understood. "You mean you want me to say that you'll call him?"
The weird, constricted feeling in her chest seemed to loosen a fraction. "Yes, please. Would you tell him that I'll be in touch as soon as I'm ready?"
"I'll do that. Thanks for hearing me out. Percy will be looking forward to your call."