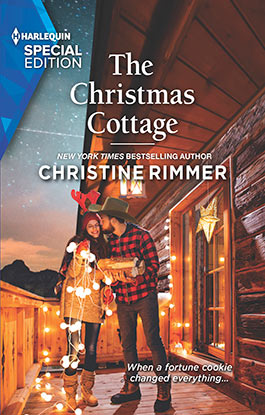 ISBN: 978-1335724250
The Christmas Cottage
November 2022
A fortune cookie changes everything in New York Times bestselling author Christine Rimmer's latest book in the Wild Rose Sisters series!
"Do it now…"
And change everything!
By the book success story Alexandra Herrera's got it all mapped out: partner at a law firm, high-powered career. But when her birth father leaves her an unexpected inheritance—prompted by a random fortune cookie—she impulsively walks away from her entire life! And now that she's snowed in with West Wright, she learns that lightning really can strike twice. So much, in fact, that the sparks between them could melt any ice storm…if only they'd let them!
Book 1: The Father of Her Sons
Book 2: First Comes Baby...
Book 3: The Christmas Cottage
What Readers are Saying
"The Christmas Cottage was a wonderful read. Who doesn't love a Christmas romance, especially when done like this. Alexandra quits her job after reading a fortune cookie and moves into her family's cottage. Little does she know her sister's brother-in-law, West is also staying there. The chemistry is immediate, but neither one wants a relationship. It was wonderful to see them grow together as a couple and realize their love for each other. Everyone will want a Christmas cottage of their own after reading this book! Ms. Rimmer has done it again."
5 stars, Therese Lopez, Bookbub reviewer
"This is a great series and I love West and Alex's story… This book can be read as a stand-alone. There are so many wonderful family and friends to catch up with, laughter, love, discovery, self-reflection, angst, doubt, lots of steam and a few tears all to get us to a very HEA."
5 stars, Nancy Ku, Barnes and Noble reviewer
"I loved this book and the series! Great characters and storylines. I will definitely be recommending this book to my family and friends! I will also be rereading the series many times!"
5 stars, Karen Geurts, Bookbub reviewer
"Christine Rimmer's third book of her Wild Rose Sisters trilogy made me wish it was a bigger family… Alex and West struggle to put the past to rest, but their attraction is stronger than ever. Following them as they struggle against and toward each other is a real treat! There are two things wrong with this book: it is too short and it is the final look at the Wild Rose Sisters. Maybe we could look for books about Josie's four children."
5 stars, Sharon Duff, Goodreads reviewer
"…This had some lovely cosy details of winter - Bailey's hot chocolate, big white jumpers, an inn, chocolate chip biscotti, leather sofas, the works. The main relationship was sweet and I really loved Alexandra's family. This was really enjoyable."
4 stars, Emma Rose Ribbons, Goodreads Reviewer
"Book 3 of the Wild Rose Sisters does not disappoint! Dependable workaholic Alex is thrown for a tailspin when she inherits her father's entire estate, seemingly making all her saving & hard work for naught! Just one fortune cookie & she's rethinking her whole life plan! Thankfully her sister's fun-loving & never serious brother-in-law Weston is there to help redirect her heart to the happily ever after they both deserve! Christine Rimmer has once again brought us a can't put down classic."
5 stars, Lynda Kirby, Goodreads Reviewer
Chapter One
Up until the moment she cracked open that fortune cookie, Alexandra Herrera had no clue that her life was about to change in a very big way.
A hard-charging career woman, Alex was a true rising star at the Portland law offices of Kauffman, Judd and Tisdale. She was crushing it and everyone at the firm knew it, too.
Two months from now, in January, one of the longtime partners would finally retire. Alex would be stepping up to take his place. And not as a junior partner. Oh, no. She would make full partner at the age of thirty-three, one with equity in the firm. Because a non-equity partnership had never been an option. Not for Alex. She wanted it all—and not only the fancy title. She wanted a partner's share of the power and the profits, and she would get what she wanted. To that end, she had worked relentlessly, scrimping and saving to pay off her student loans and then to fund her buy-in once she made partner.
A successful lawyer enjoyed financial security, prestige and the possibility she might contribute to making the world a better place. Alex had grown up hungry for those things, and by her sophomore year in high school, she'd had her dreams for her future nailed down. She'd graduated from USC at the top of her class and received her JD from Berkeley, magna cum laude, law review.
She had it all going her way—except for just one little problem. One tiny, annoying issue that wouldn't quit niggling at the back of her mind: lately, she couldn't stop thinking about her father.
On the first day of June, nearly six months ago now, Leandro Herrera, eighty-three and supposedly in great shape for his age, had suffered a heart attack on the golf course at the Los Angeles Country Club. He'd died in an ambulance on the way to Cedars-Sinai. Leandro had left everything to Alex in his will—the houses, the cars, the enormous stock portfolio. Even the airplane.
No worries about funding her buy-in now.
She ought to be thrilled. She wasn't.
It bothered her a lot, to be shunted aside for three decades and then suddenly discover she'd inherited a fortune from the virtual stranger who had provided half her DNA.
Now, on the Monday before Thanksgiving, as she sat down at her desk to a working take-out lunch of General Tso's chicken, all that money Leandro had left her popped into her conscious mind again. Mentally, she swatted it away. It pissed her off royally, it really did. To have lost the dad she'd hardly known and in his place, to have a pile of money fall on her—more money than she would ever be likely to spend in her lifetime.
It felt all wrong to her. It felt like everything bad, like betrayal and futility, a lifetime of planning and working and trying just going up in smoke. It felt like the awful growing awareness that, had she only known there would always be plenty of money, had she known that her sisters and her beloved aunt would never lose the family farm where she'd been raised….had she understood that no matter what kind of mess she made of her life, if money were needed to save someone she loved, Alex would end up more than able to provide it….
Had she only known that her dad would leave her everything, well, she certainly wouldn't have spent the past eight years clawing her way up the food chain at Kauffman, Judd and Tisdale.
Alex flipped back the lid of the take-out container and stared at her lunch.
"Uh-uh." She covered the meal again and pushed it aside, then stuck her hand in the bag and grabbed a fortune cookie—an odd move for her. Alex never ate fortune cookies. She never even broke them open to read what was inside. She was master of her life and her fate, which meant that she could not care less what some fortune cookie had to say.
Today, though…
That cookie called to her somehow. Crumbs littered her desk pad as she cracked it open to get to the scrap of paper within. Smoothing the white strip, she read her fortune.
Do it now.
Blinking in an odd combination of shock and puzzlement, she read it again, out loud this time. "Do it now…"
A direct instruction.
She scoffed. No fortune cookie gave direct instructions. It was always a prediction or generalized advice couched in open-ended terms.
Do it now.
The scrape of her own chair startled her as she shoved it back. And then she was moving, walking out of her office. Her assistant , Maude, rose from her desk, asking, "Everything okay, Alex?" as she went by.
Alex answered vaguely with a wave of one hand. "Fine, Maude. No worries…" and kept on walking.
Grant Judd, second in line to the managing partner, and Alex's mentor and immediate supervisor at KJ&T, was just exiting his office.
"A moment, Grant?" She put a question mark at the end, but it wasn't a question.
"I've got lunch with Alan Riker in twenty minutes." Riker was an important client.
"This won't take long." She swept into his office.
He followed, shutting the door. "This had better be important, Alex." There was disappointment in his tone.
And why wouldn't there be? She knew better than to sidetrack her boss when a big client was waiting. Grant had mentored her because she was one step ahead of every other associate all the time. Because she never said no to anything that helped the firm. Because she networked with the best of them. She got along with everyone from paralegals to partners and she could work a room like nobody's business.
She had a knack for retaining existing clients and finding new ones, too. Alex was the only associate with her own assistant and she had earned the admirable, smart-as-a-whip Maude because whatever KJ&T needed, Alex worked hard to make happen. She took on every challenge thrown at her and she did it with confidence, flair and a smile on her face.
Not today, though.
Today, she kept her expression cool and distant. She looked Grant Judd square in the eye—and committed career suicide. "Something's come up, Grant." Something in a cookie. "I quit."
*
At her apartment two hours later, after being escorted from the office by the nice security guard named Lester, Alex packed up her SUV and headed for the family farm.
Wild Rose Farm was an hour's drive east from Portland and not far from Alex's hometown of Heartwood. Alex's mother's family, the Dahls, had owned the farm for generations.
Over the past seventy years or so, various Dahls had built three houses on the farm—three houses arranged in a circle around a broad, gently sloping central yard. The first house along the graveled driveway from the main road belonged to Payton Wright, Alex's youngest half sister. Married last New Year's Day to the father of her twin sons, Payton lived in Seattle now with her husband, Easton, and their boys, but she came home to Wild Rose often.
When Alex arrived at a little after six that night, all the lights were on at Payton's cottage. Alex pulled in at the end of the front walk. She was hurrying up the steps in the drizzling icy rain when the door swung open and her five-year-old twin nephews tumbled out.
"Aunt Alex!" Penn, older than Bailey by several minutes, threw himself at her.
"Hey there…" She crouched on the porch to return his hug, holding out an arm to catch Bailey in a three-way embrace.
Bailey shouted over his shoulder, "Mom! Aunt Alex is here!"
Alex hugged both boys hard and breathed in their wonderful puppy-dog smell.
Payton, her hair piled in a messy topknot and her belly looking about to pop, appeared in the open doorway wearing an expression of disbelief. "Alex?"
Alex offered weakly, "Surprise?"
"Three days early. I can hardly believe my eyes." Payton held out her arms. The boys jumped around them as the sisters shared a hug of greeting.
Alex pulled back to fondly pat the bulge of her sister's stomach. "How's my niece?" The baby was due January 12.
"Active," replied Payton. "Just like her big brothers—you hungry?"
All of a sudden, Alex realized she was starving. "Yes! What are we having?"
"Turkey sloppy joes and crinkly fries!" crowed Bailey.
Penn added his endorsement. "Sloppy joes are the best!"
Payton gently clasped Alex's shoulder. "Everything okay?"
"Good. Fine. I'm actually hoping to take over the guest cottage for more than a couple of days this time." The next house along the driveway used to be Josie's cottage. But in April, their middle half sister had married Miles Halstead, who owned the farm next door. Josie and her baby son, Davy, had moved in with Miles and his two teenage daughters. Now Josie and Miles worked both farms as a team. And over the Fourth of July weekend at a family meeting, Alex, Payton, Josie and their aunt Marilyn had unanimously agreed to repurpose Josie's cottage for guests.
"The guest cottage is ready and waiting just for you," Payton confirmed as the boys dodged around them and entered the house. "Auntie M and Ernesto are here already."
"Great." Nowadays, Aunt Marilyn lived with her boyfriend, Ernesto Bezzini, in Salinas. Ernesto owned an artichoke farm there.
Payton wore a worried frown. "Tell me what's going on."
Alex just went ahead and said it. "I quit my job today."
Her sister's mouth dropped open. "You didn't…"
"Oh, yes I did."
Payton shivered a little and rewrapped her big sweater around her giant baby bump. "You're okay, though…?"
"I am. I think."
Payton pulled her close again and whispered, "We need a family meeting. Tonight. You can tell us everything."
"Yes, I—"
Bailey stuck his head out the door. "Mom. My tummy is growling…"
So they went inside and Payton dished up the sloppy joes. Once everyone had eaten, Ernesto came over to keep an eye on the twins while Alex, Payton, Josie and Aunt Marilyn convened in the guest cottage.
The place looked great, Alex thought with pride. Back last summer after she'd received her whopping unexpected inheritance, Alex had insisted that the repurposed cottage needed a new roof, siding and windows. She'd had the place freshly painted inside and out and redone the kitchen and bathroom. She'd also bought furniture to replace the pieces Josie had taken with her to her new home at Halstead Farm.
In the kitchen with its pretty granite counters and glass tile backsplashes, Josie whipped up hot chocolate while Alex told the story of what a fortune cookie made her do.
"Did you save it?" demanded Payton.
"My fortune? Yes, I did. It was still on my desk pad along with a few cookie crumbs when I started packing up my sad cardboard box of personal possessions. I taped it to an index card." She pulled the card from her pocket, and they passed it around.
Shaking her curly head, Josie read the three simple words. "Do it now."
"And you did," Auntie M, slim and strong as ever in faded jeans and a big white sweater, declared proudly. "And I think it's wonderful. It was the right move for you. You've outgrown that job."
"Or maybe I've just lost my mind…"
"Not a chance," said Josie.
Payton insisted, "A whole new life is opening up for you, Alex. I just know it."
"Well, one thing's for sure." Alex took a big gulp of her hot chocolate, which she'd liberally fortified with Baileys Irish Cream. "No matter what happens next, it's not as though I'll starve."
Josie stepped close and wrapped an arm around Alex's shoulders. "I'm sorry your dad's gone. I know you miss him."
Alex tried not to roll her eyes. "Hard to miss what you never had."
"My darling." Auntie M put an arm around her from the other side. "I'm thinking you need to keep your options open for a while."
Josie was nodding. "You deserve a real break, time to relax and recharge, time to think through what you're going to do next. You've worked nonstop since middle school."
Payton took the index card from Josie and waved it in the air. "You're always saying you're going to take time off, that you'll put in for a long vacation and see the world—or just hang out here at the farm and do nothing for a while."
"The time for doing nothing is now," announced Josie.
"Yes!" Auntie M clapped her hands together. "You should stay here in the cottage you've fixed up so beautifully. You can sit back and enjoy the holidays, take it easy for once."
"Come on," Payton coaxed. "Stay—at least until the end of the year." Her phone buzzed. She pulled it from the pocket of her floppy cardigan. "It's Easton." Payton's husband would be flying down to join them on Wednesday. "Give me a minute…" Putting the phone to her ear, she moved to the other end of the great room.
Auntie M kept after Alex to spend the holidays at Wild Rose. "You need to relax. Have yourself a real family Thanksgiving and Christmas for once with no pressure to run back to Portland because of work. Nobody's hiring this time of year, anyway. And you just as much as said you're not sure what kind of work you even want yet."
Josie chimed in with, "Take it easy until January. Let the dust settle a little."
"I don't know. Sitting around relaxing sounds vaguely terrifying."
"Because you never let yourself do it," argued Auntie M. "Give yourself a break. You will figure it out. But not by rushing into anything. Give your heart and mind time to catch up a little. Your future isn't going anywhere. It will still be there on January first."
"Auntie M knows best," Josie coaxed.
"Yes, I do," said their aunt in a tone both fond and scolding. "So take my advice. No job-hunting till January, at least."
Somehow, the stern expression on her aunt's face made Alex laugh. She admitted, "You know, you're right. All I do is work. I want time off and I'm going to take it." Her stomach felt swoopy just at the thought.
"I'm so glad!" exclaimed Josie as Auntie M beamed in approval.
By then, Payton had finished her call. "Easton says good for you, Alex—and guess what? Easton and my in-laws have ganged up on West."
Weston. Alex ignored the little shiver that slid beneath her skin at the mention of Easton's identical twin. She'd neither seen nor spoken to West since the first of the year. He hadn't been able to make it for Josie's wedding last spring or for the Fourth of July weekend, either. Nor had he been around the times Alex drove over to visit her sisters and check in on the progress of various improvements she'd arranged at the farm.
Payton went on, "West has been insisting he'll only come down for Christmas, but they've just about convinced him to join us for Thanksgiving, too. He can fly down Wednesday with Easton—there's just one little thing." Payton was looking right at Alex.
Alex got that sinking feeling. "What thing?"
"You may not recall, but I think I mentioned that West came down for a weekend in early August…"
She did remember and she'd stayed in Portland that weekend. "I remember you mentioned he was coming down with Easton, yes."
"That was during the demo phase of the remodel here at the guest cottage, so he stayed in the motor home with Joyce and Myron…" The Wright parents visited the farm often. They brought their own living quarters—a giant luxury motor home with two full en suite bedrooms and every convenience known to man.
Alex felt hope rising. "You're saying Weston will stay in the motor home, then."
"No. I'm saying West refuses to stay in the motor home ever again."
"I don't get it. The motor home is gorgeous and climate-controlled, right? It stays cozy no matter how cold it gets outside. And there's plenty of room in there."
Payton wrinkled her nose. "Uh, yeah…no."
"Yeah, no, what?"
"You need to understand how Joyce and Myron are—married for decades and still acting like newlyweds. West claims that last summer when he stayed in the motor home with them, he heard things a man should never hear his parents doing."
"Yikes!" Josie snort-laughed.
Payton winced. "Exactly. So this time, West plans to take a suite at the Heartwood Inn." The Wrights owned hotels and resorts up and down the West Coast. They'd bought the Heartwood Inn last year and done a complete renovation. Josie and Miles had been married there in April.
"The inn is beautiful since the renovation," Alex suggested hopefully, though by now she had a pretty good idea of where this conversation was going—and not toward Weston staying at the Heartwood Inn.
"Yes, the inn is gorgeous now," agreed Auntie M. "But that's not the issue. It's a family weekend and Weston should be with the rest of us, right here on the farm."
They all three stared expectantly at Alex.
And really, why keep stalling? She was bound to come face-to-face with Easton's twin again eventually, though she'd imagined that happening in a more controlled setting—over a family dinner, maybe, during a brief public encounter where they could exchange shallow pleasantries and move on. Not while sharing a small house for a long holiday weekend.
But Auntie M had it right. West was family and they should all be together right here on the farm.
It was only for a few days—and most likely a few more at Christmas. It didn't have to be a big deal if she and West didn't make it one.
Alex gave a firm nod. "Problem solved. I'm happy to share the guest cottage with Weston."
Payton still looked doubtful. "Easton says West feels guilty about moving in on you."
Alex doubted that guilty was exactly the word. Uneasy, though? Embarrassed? Self-conscious? All three might apply—they certainly did for her.
"Well, that's just ridiculous," she baldly lied. "It's not as though I need two bedrooms." There was only one bathroom, and they would be sharing it. But no way could she afford to dwell on that right now. "What's the big deal? He's only staying until Sunday, right?"
"Monday, I hope," said Payton. "Kyle and Olga are getting married on Sunday." Alex and her sisters had grown up with Kyle Huckston. His family owned a farm nearby. Kyle's fiancée, Olga Balanchuk, worked at a coffee shop in town. Everybody loved Olga.
Josie said, "The wedding's right here on Wild Rose in the event barn." There were four barns on Wild Rose. A few years ago, Josie and Payton had fixed up one of them for parties, weddings and farm-to-table dinners. Payton and Easton had been married in the event barn last New Year's night, the night Alex got to know West a lot better than she probably should have.
Payton said, "The wedding should be fun, and West likes a nice party…"
"It's no problem."
Did she sound sincere? God, she hoped so. If her sisters or her aunt suspected otherwise, they would keep after her until she told them more than she ever wanted to share of what she'd done with Weston the night of January 1. That couldn't happen. Before they'd parted last winter, she and West had agreed never to share what had happened between them with anyone in either of the families.
Uh-uh. Her sisters and her aunt never needed to know that she'd spent her sister's wedding night in bed with the groom's brother. "Just tell him I'm happy to share the guest cottage with him."
"Way ahead of you." Payton looked sheepish. "We've been working on West for a while now to get him to stay here at the farm. I already told him I would talk to you and I was sure that you would be fine with him using the back bedroom."
She put on her most sincere expression. "And I am."
"Yeah, but Easton just talked to him a few minutes ago. West is still refusing to budge. He says he doesn't want to impose on you."
"He would not be imposing on me. Reassure him."
"I already did. But maybe if you talked to him…"
Terrific. Not only did she have to share a house with him, but she also had to convince him of how much she wanted him there. "Of course. I'll be happy to call him."
"Excellent. You can use my phone." Payton autodialed the number and handed it over so that Alex could convince West right then and there.
He answered on the first ring. "Payton. Hey."
A ridiculous, zingy little thrill skittered through Alex at the sound of his smooth, deep voice. Like she was twelve or something—a preteen with a first crush. "Hi, West. It's, um, Alex. Payton gave me her phone to call you—because your number is programmed in?"
"Alex…" Long, awful pause. Alex carefully avoided looking at her aunt or either of her sisters. "It's been a minute. How've you been?"
"Great. Fine. Wonderful." Seriously? Three adjectives, each with its own period? Dial it back, girl. Breathe. "Payton says you're hesitating to stay here at the guest cottage."
Silence. And then finally, "What? You're surprised?"
She made the mistake of glancing at Payton. Behind Payton, Alex could see Josie on one side and her aunt on the other. All three women were watching her. She put on her best take-charge voice. "There is no need for you to stay at the Heartwood Inn when there's an extra bedroom here at the guest cottage."
"No need, huh? Well, I don't know, Alexandra. The whole point was to avoid each other, wasn't it?" He was razzing her, plain and simple. She could just picture him right now, smirking, his jewel-blue eyes twinkling in his so-handsome, angular face, a face dusted with just the right amount of sexy beard scruff. He and Easton were identical twins, but East was the serious one. West, as a rule, played the lighthearted charmer.
Not last January, though. The night of the wedding, he'd been wrecked over the sudden, completely unexpected loss of his closest friend.
"You won't inconvenience me." Alex tried her best to sound sincere. "There are two bedrooms. You should use one. I mean, that's what they're for, right?" She barreled on, rattling off the reasons he would already have heard from Payton. "It's a family weekend, West. We're all going to be here at the farm. Including you, I hope. Please take the other bedroom."
"Are you sure?"
"Of course. Take the other bedroom. Stay here at the farm with the family."
"Alex?"
"Um, yes?"
"I'm at home at the moment. Alone. Can you talk freely?"
"Yes, well. Payton's right here." She shot a big smile at her youngest sister. "Josie and Auntie M, too. They all say hi."
"Are you on speaker?"
Oh, for heaven's sake. "No, no. Not at all."
"All right then. Be straight with me."
"I will do my best." Given the circumstances.
"We agreed it was a onetime thing and nobody else had to know. You made a big deal in the morning about how we wouldn't contact each other, we'd go right back to being two people who hardly knew each other, the sister of the bride and the brother of the groom." What was he getting at? Pretending nothing had happened really had seemed like the best way to handle things at the time.
And her ears were burning. "Yes. True. That's right. Absolutely."
"Do they know?"
She chose her words carefully. "Not from me."
"And not from me."
She breathed a sigh of relief. "I'm so glad to hear that."
"Well then, Alex, I'll need you to tell me honestly. Are you okay with us sharing that little house after what happened last New Year's?"
No, she was not okay with it. And even if they hadn't been each other's one-night stand eleven months ago, she wouldn't really be okay with it.
Because she'd just shocked the hell out of herself and walked out on the job that had been her top priority since she'd finished law school. She needed the cottage all to herself to sit around in her pajamas feeling lost and confused. She needed to stream Boston Legal on Hulu Plus, to eat Tillamook Mudslide from the carton as she cried for no real reason while trying to figure out what to do with the rest of her life.
So that was an option, just to say that she needed her alone time and West would intrude on that. Everyone would understand. But then he would stay at the Heartwood Inn and she would feel terrible because that really wasn't right…
And what about just putting the truth out there, just telling everyone that it would be awkward to stay in the cottage with him because she and West had shared a one-night stand? There was nothing unacceptable about what she and West had done. No one here would judge her. Alex and West were both adults, both single. It was nobody's business that they'd had sex on a cold winter night when he'd needed a friend and she was the only one around to hold out a hand. It was one of those things that just happen sometimes.
It would be weird, though, to share that information with the family. Weird and awkward. And Alex still hoped she would never have to go there.
"Alex?" Weston spoke again, his voice so smooth and deep and way too sexy.
"Hmm?"
"You ever plan on answering my question?"
"Absolutely." It came out sounding aggressive, almost angry. She made herself speak more cordially. "Yes. Honestly. There's plenty of room here. You're staying in the cottage. It's settled."
"You're so bossy…" He said that kind of slow—slow and also naughty and she sincerely hoped her cheeks weren't cherry red.
"Weston." She said his name sternly, as a rebuke.
"Alexandra," he mocked.
"That's a yes, right?" Now she made her voice pleasant, even a little too sweet. "You'll take the second bedroom."
"Yes, I will. And it's good to talk to you, Alex. At last." Did he really have to be so…ironic? It wasn't like she hadn't thought more than once of reaching out to him, checking in with him to see how he was holding up. But back in January, when they'd said goodbye, he'd seemed totally on board with cutting it clean. "Alex? You still there?"
"Uh, yes. Great."
"See you day after tomorrow. I'll be flying down with Easton."
"Perfect. See you then." She heard the click as he disconnected the call.