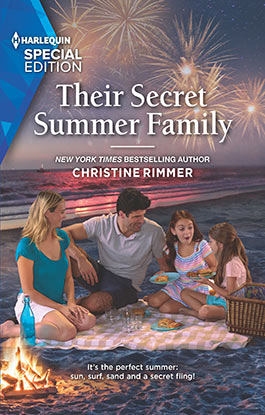 ISBN: 978-1335894533
Their Secret Summer Family
May 2020
It's the perfect summer: sun, surf, sand and a secret fling!
It's just fun and games…
Until someone falls in love.
Officer Dante Santangelo doesn't "do" relationships, but the busy single dad happily agrees to a secret summer fling with younger, free-spirited Gracie Bravo. It's the perfect arrangement. Until Gracie falls for Dante, his adorable twins and their ever-present fur baby. Gracie wants a life with Dante. Either she can say goodbye at the end of the summer…or risk everything to make this family happen.
The Bravos of Valentine Bay:
They're finding love
—and having babies!—
in the Pacific Northwest
What Readers are Saying
"What starts out as just a summer fling turns into a beautiful love built on trust, understanding and knowing that you have to put your heart out there again to really fall in love. I loved their story so much, another winner for Christine Rimmer!"
Five Stars, Therese Lopez, Goodreads Reviewer
"Grace Bravo is young but knows what she wants. She is excited to start teaching in the fall and has her sights on becoming independent and responsible. She also has feeling for single dad Officer Dante Santangelo who has been married and has adorable twin girls. His only flaw is that he doesn't think he is cut out for love. Grace has her work cut out for her regarding Dante. This is a beautiful heart felt story and very uplifting during these trying times."
5 stars, Cassie, Goodreads Reviewer
"Fantastic book… It didn't take long for Grace to realize that she wanted more than just the secret summer fling. I ached for her when she accepted that Dante was never going to give her what she needed. There were many times when I wanted to bash Dante over the head or shake him until his teeth rattled. Grace makes him feel things that he's never felt before…"
5 stars, Susan Frank, Goodreads Reviewer
"I just want to start my review by saying that I am so happy I was able to read and advance copy of this book. Things have been kinda crazy and this was an awesome escape. I picked it up this morning and read the whole book in one day. If you love romance I think you will thoroughly enjoy this book."
5 stars, Phylis Carpenter, Goodreads Reviewer
Chapter 1
Grace Bravo was going too fast and she knew it.
But she really needed to cheer herself up. And it was a beautiful, sunny first day of June on the Oregon coast, the perfect kind of day to drive with the windows down, playing "Shut Up and Drive" really loud. The fir-scented air blew in and swirled around her, stirring her hair as she bopped right along with Rihanna. She was beating out rhythm on the steering wheel and swinging around curves with abandon.
Too bad she wasn't really feeling it—not the beauty of her home state, not the sunshiny day, not the warm summer air whipping her hair around her face, not even the hard-driving beat of the music turned all the way up.
And then the light bar started flashing behind her. A siren blared.
"No!" she cried. "This cannot be happening…"
But it was. Grace turned off the radio and took her foot off the gas. Easing her eight-year-old RAV4 to the side of the road, she put it in Park and switched off the engine. The white Valentine Bay police cruiser, lights still flashing, pulled in behind her, the nerve-shredding siren cutting off in midshriek.
A ticket was definitely in her future.
She shouldn't be the least surprised. It was all just more crap piled on top of an already craptastic day.
Thinking dark thoughts, she raked her wind-tangled hair back off her forehead and watched in her side mirror as the officer—tall, dark haired, broad shouldered, tanned and very fit, in Valentine Bay PD blues and black wrapback sunglasses—emerged from the cruiser.
It took her a second or two to realize who he was.
Dante Santangelo?
No way.
Grace had known Dante forever. His only sister was married to one of her brothers. Once or twice a week, he dropped by the Sea Breeze where she worked. They got along great, Grace and Dante. She'd always considered him a friend.
Until now, anyway.
"Are you kidding me?" she muttered sourly when he leaned in her window.
"Gracie, you were speeding," he chided—like he was really sorry, but being sorry wouldn't stop him from doing his job. He took off those black sunglasses and gave her a melty look as his plush mouth curved in a warm smile. "License and registration?"
"This is so wrong," she grumbled.
He just kept on leaning in the window, those velvety, coffee-brown eyes patient, like he could wait forever for her to stop being grumpy and pass him her papers.
"Fine." She leaned across the console, popped open the glove box, got out her registration, handed it over, then fished her wallet from her bag and gave him her license, too.
"Thanks," he said. "I'll be right back…"
"I was afraid you'd say that."
He turned for his cruiser. With a groan of frustration, she flopped her head against the seat and closed her eyes.
He was back in no time with a clipboard. "Here you go." He handed her documents through the window.
She took them. "Thanks," she sneered, and couldn't resist reminding him, "I give you the good beer. I don't even let you tip me." Actually, he always tipped her, anyway. But she always meant it when she told him not to.
Did he chuckle as he wrote on his clipboard? Sure sounded like it to her. One big shoulder lifted in an easy shrug. "And I'm giving you the good ticket."
"That makes no sense. There is no good ticket." And yeah, it was a stretch, but she might as well try her feminine wiles on him. Tossing her messy hair a little, gazing up at him with sad, wide eyes, she pleaded pitifully, "Do you have to?" He just kept writing out the ticket. "It's been a bad day," she whined. With feeling. "And now this."
He passed the clipboard in the window and handed her his pen. "Initial here and here. And then sign here."
"A hundred and sixty bucks? You can't be serious."
He said nothing, just continued to look at her with that thoroughly annoying expression of gentle patience on his handsome face.
She huffed out an exasperated sigh, took her sweet time reading the whole damn thing and did what he told her to do, giving back the clipboard and pen when she was done.
He passed her the ticket and launched into a little spiel about the deadline to respond and how to contest the citation. When he finally shut up about it, he leaned in the window again. "Okay, that's out of the way. Now. Are you all right?" His expression had morphed from patience to real concern.
She glared at him, just to drill it home that she would be a lot better if he hadn't pulled her over. "Not really."
"You need someone to talk to?"
Share her problems with Dante? The idea never would have occurred to her. Yeah, she considered him a friend. But not a cry-on-your-shoulder sort of friend. She'd known him her whole life, practically. And she'd always considered him hot and all, with those smoldery good looks and that broad, hard body.
But he was nine years older, thirty-two to her twenty-three. He'd been married and divorced and he had twin daughters. The guy was a settled, responsible sort of man who would no doubt consider her flaky and immature if she griped about her fight with her bossy eldest brother and whined over her paltry bank balance, which was keeping her from getting her own place.
And about her miniscule bank balance? That was all on her. She'd inherited a little money back when she turned eighteen. If she hadn't enjoyed spending it so much, she would have plenty of money to move.
She should thank Dante for offering to listen to her problems, insist that she was fine, say she would see him the next time he stopped by the bar—and then wave goodbye.
But the thing was, his offer kind of gave her the warm fuzzies. Dante was a tough guy. He didn't let many people close. That he seemed to really want to be there for her made her feel better about herself, somehow.
"You'll be sorry," she warned and waited for him to back out.
But he didn't back out. "I get off at five. I'll see you at the Sea Breeze."
"No, you won't."
"Why not?"
"I can't cry on your shoulder at my place of work. That would be totally unprofessional—and besides, I'm off tonight." She was pretty sure that would do it. He would tell her to drive carefully and turn for the cruiser.
Didn't happen. "How about my place, then?"
Dante's house. She hadn't been there in years—not since she was sixteen and babysat his twins that one time when his then-wife, Marjorie, couldn't get her regular sitter. "You don't have to do this, you know?"
"Hey, come on. What's a friend for?" He upped his offer. "I'll open a bottle of wine."
She waved the ticket at him. "After this, you owe me a nice bottle of tequila. I'll bring the tacos."
He didn't even blink. "Six o'clock?"
For the first time since he'd pulled her over, she gave him a smile. "I'll be there."
*
Dante had a really nice house—a shingled, rambling, ranch-style place on an acre of wooded land overlooking the ocean. He'd bought it about a decade ago, in the midst of the last housing crisis, when a house like Dante's went for half what it was worth now.
Grace admired the pretty setting as she carried bags of take-out tacos up to his front door. On three sides, the house was surrounded by trees. In back, it overlooked the ocean.
Dante, in worn jeans and a gray crewneck T-shirt that showcased his muscular arms, pulled the door open before she rang the bell. "Right on time. And you brought the tacos, too—here." He took the bags from her. A friendly-looking dog bumped around him, tail wagging. Dante gently warned, "Owen, play nice." The dog had short floppy ears, a sweet face and a red-brown coat with a blaze of white at the throat. His paws were white, too.
She greeted him. "Hello, Owen." With an eager whine, the dog sat and gazed up at her hopefully. "Part golden retriever, right?" she asked Dante.
He nodded. "Golden and German shepherd."
"He's very handsome." She knelt to scratch his thick ruff, glancing up as she let Owen lick her face. "You get the good tequila?"
"Come on inside." He stepped back and ushered her in. "You can see for yourself." He led her to the kitchen area, which was open to the living space, with concrete tile counters and glass backsplashes.
"The counters are beautiful," she said.
"Thanks. I like to change stuff up now and then."
Back when she was sixteen and the pinch-hit babysitter, the counters were white tile—and right now, the bottle of tequila was waiting on the island. She picked it up. "Anejo." The word meant "smooth" or "restful." Tequila Anejo had to be aged in oak barrels that did not exceed six hundred liters for at least a year. "Thank you."
He gave her a nod and gestured at the limes in the wire basket nearby. "You want to shoot it?"
"Have you met me? I'm a purist."
"Perils of being a bartender, huh?"
"That's right. You develop definite opinions when it comes to enjoying good liquor." Actually, bartending was an interim job for her while she'd waited for a teaching job to open up locally.
She had a degree in history with a minor in education from Reed College and she'd recently snagged her dream job. This fall, she would be teaching history at Valentine Bay High. In the meantime, she was still working at the bar, sometimes days and sometimes nights. She liked the flexible schedule.
Dante took a couple of stemless wineglasses from a cupboard. "Will these do?"
"Perfect."
They decided to sit out on the deck and enjoy the view. She helped him carry everything outside, including a pitcher of ice water, which made her laugh. It was so Dante, to make sure they stayed hydrated while they were getting blasted.
It was gorgeous outside and wouldn't be dark for hours. The deck faced a stretch of wooded yard. Farther out, twisted, windblown evergreens framed the edge of the cliff and the top of a narrow trail leading down to a nice stretch of beach below. Off in the distance, the ocean gleamed, pearly blue to the horizon.
Grace sat in a cushioned deck chair at a cast iron table beneath the shade of a big white umbrella. At Dante's insistence, she drank a tall glass of water and ate two tacos before settling back to sip tequila. Owen had stretched out at her feet.
"Okay, I gotta admit." She tapped Dante's glass with hers. "This is the life—how are the girls?"
*
Dante took a slow sip. It went down smooth and hot.
It was nice, really, sitting out here with Gracie. He'd always liked her. She was fun and easy to be with.
And she'd grown up to be gorgeous, with all that silvery blond hair, those soft lips the rich pink color of the inside of a conch shell and those sapphire-blue eyes. Her skin was so pale. She looked like she might bruise from a touch—not that he'd ever make a move on her or anything. They had a way-too-complex history.
Her third-born brother, Connor, had been Dante's best friend all their growing-up years. But then Connor had broken the bro code. He'd fallen in love with Dante's sister, Aly, and married her. Dante had barely forgiven Connor for that, when Connor divorced Aly for reasons that really weren't reasons at all. Dante had sworn never to speak to the jackass again.
Then last year, Aly and Connor had gotten back together. They'd married each other for the second time last October and Aly had given birth to their daughter, Emelia, just last month. Dante and Connor were friends again now.
And really, Dante had always thought of Gracie Bravo as a kid.
Well, until lately, anyway. Today, she wore faded denim shorts and a cropped top. Following her out here from the kitchen, he couldn't help staring at her ass and her strong, pretty legs, at all that gorgeous, delicate skin…
"Dante. Helloooo." Laughing, she reached across the table and lightly batted his arm. "Nicole and Natalie? How are they doing?"
"Good. Real good." He ordered his dirty mind off Gracie's ass and back to the much safer subject of his twin daughters. They were eight now. They mostly lived with his ex-wife, Marjorie, in Portland, where they went to school. He had them every other weekend and for seven weeks in the summer.
Gracie asked, "When do they come for vacation?"
"A week from this coming Saturday."
"You're counting the days."
He tipped his glass at her. "I always do." He was a family man, through and through. His ex-wife was a good mother. Still, he just felt better when his girls were with him.
Gracie asked, "So how's it going with the new stepdad?"
At Easter, Marjorie had married Dr. Roger Hoffenhower. Roger was a family psychologist and a really nice guy with a big heart. "Terrific." He drank more tequila.
Gracie scoffed. "Smile when you say that."
"I like Roger." He set his glass on the table and turned it slowly. It was almost empty. Against his own better judgment, he added, "I also kind of hate Roger."
"Why?"
He put the glass to his lips again, sipped the last of the golden liquid inside and then slowly swallowed. "Roger is an open wound of feelings and sensitivity." In other words, pretty much everything Dante wasn't. "Plus, Nic and Nat like Roger. A lot. Can you blame me for hating the poor guy?"
She gave a husky little laugh that he found way too attractive. "I think anything I say right now will probably be wrong."
"Smart girl—and why are we talking about Roger, anyway?"
"Er, because you like him—but you hate him, which means you're conflicted about Roger and that's not only interesting, it's the kind of thing you need to talk about with a friend."
He stared at her, unblinking. "But we're not here to talk about Roger."
"You started it. Officer." Those sapphire eyes twinkled at him.
"You're the one who asked about Roger."
"But then you told me how you really feel about the guy. That's my cue to encourage you to tell me more."
"Wrong." He raised his glass to her. "We're risking liver damage for your sake, remember? You need to tell me all about what's bothering you so I can take a crack at saying all the helpful stuff that will make you feel better."
"Clearly, you are at least as sensitive as Roger."
He grunted. "Don't bet on it. But I'm here and willing to listen."
She picked up the bottle and poured them both more tequila. They sat back, just sipping, for a few peaceful minutes. It was nice, he thought. Companionable.
She was staring off toward the ocean when she said, "I had a fight with Daniel this morning." Daniel Bravo was the eldest of the Bravo siblings and something of a father figure to all of them. When their parents died years ago on a trip overseas, Daniel had gotten custody of them and raised them to adulthood in the house where they grew up. "It was a stupid fight and we both apologized after. Daniel and I used to get into it all the time, but it's been better lately. Truly. We get along really well now, as a rule. But I'm sick of living in the house I grew up in and frankly, my big brother is sick of having me there, though he would never admit it…"
They both continued sipping the excellent tequila as Gracie rambled on, looking way too cute and kind of sad, too, explaining about the small trust fund she and her siblings had each inherited from their lost parents. She went on to explain about her trips to Europe in the summers while she was in college, about the writer she lived with one summer. And the sculptor the next and the inventor the year after that.
"That was in Italy, the inventor," she said. "His name was Paolo and he invented things that had a tendency to explode."
Mostly, she explained, she supported these guys with her inheritance while she was with them. "You have to understand, Dante. They were brilliant and interesting. It was England and Ireland and Italy. Best of all, Daniel wasn't there to call me foolish and wasteful and taken advantage of by irresponsible guys. I had the time of my life."
"But…?"
She rolled those big blue eyes. "But Niall and Keegan and Paolo were expensive. And that means that by the end of that third summer, I was kinda, sorta broke."
"How broke?"
She plunked her glass down and poured herself another. He probably should have suggested they put the brakes on the drinking. But he was enjoying himself. That was the thing about Gracie. He'd discovered in the nights he'd hung out at the Sea Breeze with her that she was not only easy on the eyes, she was funny and smart—with a lot of heart.
Gracie Bravo was the whole package, really. He felt better about life in general somehow, when he was hanging around her. He held out his glass and she gave him more, too.
"There's good news, though," she said, after she'd put the bottle down and sipped again from her glass.
"Tell me."
She raised her glass high, as though saluting the trees and the cliff and the whole damn Pacific Ocean. "My perfect job has finally opened up at Valentine Bay High. I'll be teaching world history in the fall."
"Congratulations. That's terrific." He tapped her glass with his.
"Thank you. Also, I've been budgeting responsibly for the last two years, saving what money I can. By Christmas, I'll have enough to get my own place."
So what was the problem? "Okay, then. You had a fight with Daniel, but you already patched that up."
"Yeah."
"And you've got your money situation under control."
"I do. It's true."
"That doesn't sound so bad."
Her forehead got scrunchy as she considered what he'd said. "You don't get it. Dante, I need my own space now, I really do. Daniel and Keely are good to me." Keely was Daniel's second wife. His first wife had died shortly after giving birth to twins—a boy and a girl—almost four years ago. "And the house is really big, I know. But still, they've got the twins and now Marie." Marie was Daniel and Keely's daughter—and about a year and a half old now, if Dante remembered right.
Gracie drank more tequila. Dante did, too.
"Keely and Daniel have a right to their own house," Gracie said. "And I want a life without my big brother breathing down my neck. I want that life now. My BFFs Carrie and Erin are already roomies—with no room for me. I could move in with Harper and Hailey." They were two of her sisters. "They've got that rambling old cottage Aislinn owns." Her sister Aislinn had married recently and moved to a ranch owned by her new husband. "But Harper and Hailey are like a team, you know? I always feel like a fifth wheel around them. So anyway, I thought I had an interim solution to the problem, a room in the house of a nice older woman named Sonja Kozlov down on Cherry Street. But then, early this afternoon, Sonja gives me a call. Her son has moved home unexpectedly and my interim space is no longer available. She gave me back my first, last and deposit and that's that. I'm still living in my brother's house. Probably till Christmas."
The good news was, he actually had a solution to her problem. "You want the cabin? It's yours."
"What cabin?" Squinting, she craned across the table toward him. "Are you drunk?"
He gestured toward the thick copse of trees behind her, on the south end of his property. "I have a guest cabin, I guess you could call it. Over there. See the trail going into the trees?"
She turned and stared where he pointed. "Wait. I see it. A log cabin, green tin roof?"
"That's it. It's one room—and a bathroom. Nothing fancy, but it has everything you need. Power, basic appliances. Running hot and cold water. A woodstove for heat if you need it. I even had Wi-Fi hooked up in there last year when one of the station house dispatchers needed a place to stay for a few months."
"How come you don't just rent it out on a regular basis?"
He shook his head. "I don't want some stranger living a hundred feet from my back deck. Luckily, you're no stranger. You can have it for as long as you want it, free of charge."
She sat back in her chair. "That's not right."
"Sure, it is."
"I can pay you what I would've paid Sonja, at least."
He put up a hand. "Stop. Let me do this for you. Like you said, you need a place of your own and the cabin is just sitting there empty."
She slapped the tabletop. "Wait."
"What?"
"We should discuss this tomorrow when we're both sober."
"Oh, come on, Gracie. I solve your problem for you and you can't just say thanks, I would love to stay in your log cabin for free?"
"Nope. Not tonight. Tonight is for tequila and commiseration." She let out a heavy sigh. "Right now, we need to get on to a more interesting topic. Let's commiserate about love."
"That does it."
"Huh?"
He grabbed the bottle and moved it to his side of the table. "No more tequila for you."
"You're such a hard-ass, Dante—but I still intend to talk about love."
He helped himself to another glass. After all, the bottle was in his control now. Might as well take full advantage. "Go right ahead."
She'd slipped off her pink sneakers and was giving a very happy Owen a tummy massage with her toes. "I love your dog."
Owen knew she was talking about him. With a gleeful little whine, he rolled over and got up.
"Come on, sweetheart," she coaxed.
With a sigh of pure contentment, Owen put his head across those amazing white thighs of hers. She petted him, stroking down his back, scratching him behind the ears. Owen shut his eyes and basked in the attention.
She asked, "Does he just stay home alone when you're working?"
He explained about the nice lady named Adele who lived on the next property over. "Adele runs a sort of doggy daycare, but it's casual. She's there all the time. I can drop Owen off and pick him up pretty much anytime that suits me. When I work nights, he stays here, but I can always manage to get home sometime midshift to check on him, give him a little attention and a short walk outside."
She made a humming sound low in her throat and petted the dog some more. Dante began to hope that maybe they'd left the subject of love behind.
But then she sat back in the chair and stared up at the sky. "Where were we? Right. Love. I can't say for sure that I've ever really been in love." A long sigh escaped her. "But I have been infatuated, like head over heels, you know? Sadly, I always go for the brilliant ones, the ones nobody understands, the emotional fixer-uppers, I suppose you could say." She slanted him a quick glance. "You know about fixer-uppers, don't you?"
He did like watching those pink lips move. "Explain it to me."
"Fixer-uppers are expensive. I've blown my wad on fixer-uppers." She let out a giggle, and then got serious again. "So right now, I can't afford another relationship—and could you maybe not look so completely disapproving?"
He blinked. "I'm not." Was he?
"Yeah, you are. You're reminding me a little of Daniel. Talk about a buzzkill." She pushed her glass across the table and gave him the evil eye until he poured her some more.
He set the bottle down again and decided that he might as well be honest with her. "Okay, the way I see it, Gracie, romantic love? It's a crock."
She whipped out a hand and slapped him lightly on the arm for the second time that evening. "Take that back."
"Can't. Sorry. What you call love is just an excuse to misbehave."
"Not true. So wrong."
"Take my parents."
"Dante. Slow down. You're telling me that romantic love's a crock and your parents are your example of why that's so?"
"Exactly."
"But your parents have been married forever and they're happy. Aren't they?"
"Blissfully so," he replied in disgust.
"Dante. You're making no sense. I mean, if they're happy, well, isn't that the point?"
"The point is, my mom was seventeen and pregnant with me when she married dad."
"So what? They're happy. They've been married for more than thirty years. Give it a rest."
"They're crazy."
"No."
"Yeah. Crazy in love after all these years. And they always have been. Do you know how many times I walked in on my folks having sex when I was a kid? It was traumatic. No surface was sacred. Apparently, it's still that way." Which was proven out by the fact that a year ago, at the age of forty-eight, his mom had given birth to his littlest brother, Mac. "And look at my sister. Loved your brother since she was barely in her teens. Chased him shamelessly until she finally caught him. Married him. Got wrongly divorced by him. Seven years later, she gets hit in the head and comes running back for more."
Gracie put both her hands out to the side, palms up. "And they're making it work now. They're very happy together, Connor and Aly."
"Romantic love is just another name for insanity." Dante finished off what was left in his glass. "I love my girls. That's a love that matters, a love with dignity and purpose."
She bent down and kissed the top of Owen's hairy head, which was still in her lap. The dog had his eyes closed and a blissed-out expression on his face. "You just haven't met the right woman yet. It will happen."
"No, it won't. The truth is I'm bad at relationships and I'm just fine with that."
She stuck out that plump lower lip of hers. "That is too sad."
"No, it's not."
"Yes, it is. And I'm sorry it didn't work out with Marjorie. Don't feel bad, Dante."
"Did I say I feel bad? I didn't say that. I said I am bad at relationships."
"Everyone fails at love."
"Not my parents."
"Okay, except for your parents—and my parents, now that I think about it. They were totally in love till the end. And Daniel and Keely. And your brothers, Pascal and Tony, they're happily married, too, right? And let's not forget my sister Aislinn and—"
"Stop." He set his empty glass down harder than necessary. "All these happy couples. I can't take it anymore."
"My point is, you just have to be patient. It will happen. I've been in five failed relationships—if you count Joseph and Randy in high school. And after Paolo, well, I've been going through a bit of a dry spell if you know what I mean, avoiding sex and relationships and all that—but that doesn't mean I'm giving up, you know? I'm just having a break, that's all. I could have a wild fling any day now. And one of these days, I'll find the kind of love your mom and dad have. I'm not discouraged."
"Meaning I am? I've already said twice that I'm not."
"But you are." She gave Owen another scratch behind the ear. The dog nuzzled her hand and then flopped back down at her feet, rolling to his back in a shameless invitation to another toe massage. Gracie obliged.
Dante watched her pretty, turquoise-painted toes rubbing Owen's belly and laid it out for her again. "You're not getting it, Gracie. I'm fine with things just as they are. More than fine."
"But…you never have sex with other people anymore?"
"I didn't say that."
"Ohhh," she said slowly, eyes going wide. "Just flings and hookups, then, is what you're saying?"
"What I'm saying is I like my life. I've got a job that matters, one that interests me, with good potential for advancement." He gestured widely at the trees, the deck, the cliff and the ocean below. "I've got a great house in a beautiful spot, a good dog and most important, two smart, beautiful daughters."
The sun had sunk below the water. It was almost dark. The light by the slider, set on a timer, came on.
Gracie put her hands to her throat and made choking noises.
"Whatever that's supposed to mean," he said flatly, "I don't get it. You need to use words."
"Fine. A life without the prospect of someone special to love just makes me want to strangle myself."
"How many different ways can I say that I'm perfectly happy with how things are?"
"No. Uh-uh. I refuse to believe that you have no interest in finding love again. Dante, you're a great guy. And hot." She peered at him more closely, that pillowy, pink mouth softly parted. "Seriously. You're really hot…" She stood.
Before he could figure out what she was up to, she'd stepped over Owen and plopped down in his lap. With a happy giggle, she wrapped her arms around his neck and stuck her tongue in his ear.
He knew what to do—take her gently but firmly by the arms and hold her away enough that he could look in those big blue eyes and say in a soothing tone, Gracie. No. Bad idea.
But there was a problem.
Her tongue in his ear? It felt really good. Almost as good as her pretty, curvy body pressing against him. She smelled fresh and clean and sweet, too. And he liked the way she felt. He liked it a lot. The evidence of how much he liked it was growing beneath his fly. She knew it, too. He could tell by the way she gasped and whispered his name.
Tell her this can't happen, he said to himself.
And he opened his mouth to do that.
But then, her tongue left his ear and her soft lips were right there, meeting his. He sank into that kiss like a drowning man, going down and down, looking up at the sky through the water, realizing that drowning was good thing—as long as it was Gracie he was drowning in.
Because Gracie, well, she tasted of tequila and summer and the promise of something so perfect and right.
Of course, it didn't exist, that promise.
He knew that—or rather, the fulfilment of that promise, that didn't exist. The promise itself? That was the problem. The promise was so tempting. The promise made the world seem like a much more beautiful place.
And right now, on his back deck, as night came on, just the taste of her mouth and the soft weight of her pretty body and the scent of her skin, it was all magic to him. She practiced the best kind of sorcery, equal parts innocence and heat.
She pulled back a little, but only to slide that mouth of hers along the ridge of his jaw. She gave his chin a little bite.
And then her lips met his again. He went down a second time, plunging below the surface of all his own objections.
Dragging her tightly to him, he speared his tongue into her beautiful mouth. He was drunk, but not that drunk. He knew that he shouldn't, that they were friends and this was how friendships ended, that he was violating the very rule he'd once beaten the crap out of Connor for breaking. Because Gracie was Connor's little sister and a guy didn't make moves on his best friend's little sister.
No. Uh-uh. He shouldn't, couldn't, wouldn't…
But she tasted so good, like excellent tequila and the best bad decisions. All the shouldn'ts in the world could not hold out against the flavor of her, the feel of her, so soft and wild, in his arms.
She pulled back violently and blinked at him. "We're both kind of drunk. Maybe this shouldn't be happening. I'm kind of taking advantage of you in a weakened state, aren't I?"
"What the…? Of course not."
"I'm not?"
Wait. He should probably just agree with her, shouldn't he? Put an end to this incredible craziness.
She kissed him again. His brain got all scrambled in the best possible way.
This time, when she put her hands on his shoulders and pulled her mouth from his, she said, "Then again, since we're both hosed, nobody's taking advantage of anybody. It's mutually consensual. Wouldn't you say?" His head started nodding of its own volition. And she gave him her beautiful, glowing smile. "That settles it. We should go inside where the condoms are. You do have condoms, right?"
It was yet another opportunity to tell her they weren't doing this—or even to lie and say he had no condoms. Whatever it took to discourage this completely unacceptable behavior.
This was so wrong. He couldn't have sex with Gracie for any number of reasons, none of which were all that clear to him right at this moment.
And her mouth…
Her mouth was so tempting, all swollen from kissing him. Her skin was flushed a hot, dewy pink and her eyes were the deepest, purest blue.
He scooped her hard against his chest and got up.
"Whoa!" she cried happily, tightening her arms around his neck, kicking her feet a little like she just couldn't contain her glee.
He carried her to the slider. She reached out an arm and pushed it open. Owen went through ahead of them.
Inside, the lights were still on from earlier. Dante turned toward the door again to shut it. Gracie did it for him. Without a word, she pushed it shut and latched it.
His better judgment tried to surface, to put a stop to this insanity. He opened his mouth to gently put the brakes on.
And she kissed him. Her scent was all around him and her skin was so soft, her naughty little tongue all wet and delicious.
His objections flew away. There was nothing in his head now but lust and longing. She felt too perfect in his arms and she tasted like heaven and the scent of her was driving him out of his mind.
Hoisting her higher, he made for the hallway that led to the bedrooms.