Hi Everyone,
Cover reveal, anyone? I love those. And I've got one for you this month. THEIR SECRET SUMMER FAMILY, coming in May, is Gracie Bravo's story. Some of you might remember Gracie as the youngest of the Valentine Bay Bravo clan….
Gracie is fun, outgoing, loving and full of fire. She often clashes with her eldest brother Daniel, the honorary "dad" of the family ever since their parents died suddenly years ago. In THEIR SECRET SUMMER FAMILY, Gracie finally moves out on her own and into a charming log cabin owned by none other than her good friend, Dante Santangelo. An officer with the Valentine Bay PD, Dante's a single dad whom you may recall as the serious, hunky older brother of Aly Santangelo, who was the heroine of last October's A Husband She Couldn't Forget.
They really are just friends, Grace and Dante. At least until the night they become so much more….
THEIR SECRET SUMMER FAMILY is available online for preorder now. I'll post links and more info next month. Until then, I hope the daffodils are blooming wherever you are and the good books are right there for you when you need them.
Happy reading everyone,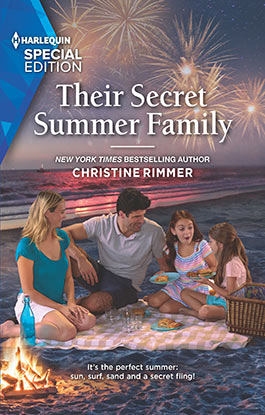 ---
Posted by Christine on Tuesday, February 18, 2020